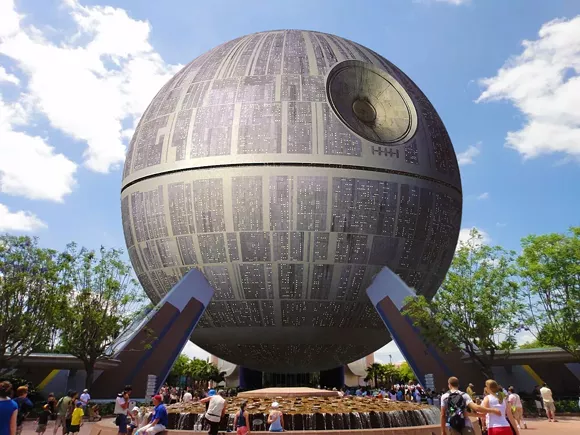 With what seems to be half of the park closing at Disney's Hollywood Studios the rumors of things opening anytime soon seem to be rare. However, one rumor that keeps popping up is a Star Wars preview center taking residence in the former The Magic of Disney Animation attraction area.
Numerous Disney fan blogs are now reporting some aspect of Star Wars to be in Disney's Hollywood Studios by the time the new film is released this December.
Hollywood Studios has long relied on Star Wars Weekends as one of its main drivers for attendance. The popular festival is a must visit for Star Wars fans each spring. Numerous panels, autograph sessions and specialty merchandise are featured at the event that stretches over multiple weekends. Star Wars is one of the major aspects of Hollywood Studios redo with the new Star Wars land replacing up to nearly a third of the existing park.
The strongest rumors include a new meet and greet in a replica Millennium Falcon deck (likely an exact replica of the deck being installed on Disney Cruise Line ships). The popular Animation Academy classes look to be returning, but with a Star Wars theme. That attraction will focus on the animated version of Star Wars.
The most interesting rumors regarding this new mini-Star Wars pavilion include a Star Wars Launch Bay, similar to the one announced for Shanghai Disneyland, that would include movie props from the films. A similar movie prop based attraction is also expected to open in Disneyland Anaheim this Fall as well.
Also expected at this new, temporary pavilion is a 'blue-sky' display center that will feature models and updates to the Star Wars land being built on the opposite side of the park. The display center will be similar to the one currently included in the One Man's Dream attraction at Hollywood Studios; that attraction will likely close soon as construction in surrounding areas of the park picks up. Disney also included a similar 'blue-sky' preview center during its major redo of Disney California Adventure. That park's redo is viewed as the closest thing to what Disney is planning, at least scale wise, to Hollywood Studios.
The attractions just to the south of the former Magic of Disney Animation are strongly rumored to be closing within the next few months. The Jack Sparrow attraction closed in November. Both attractions are expected to close by September 27, the end of the fiscal year for Disney. Those buildings are expected to be torn down as part of the Pixar expansion for the park.
Parts of the new Star Wars temporary pavilion were formerly rumored to be heading to Epcot as part of its 2016 line-up but have since moved parks, a move largely viewed as an acceptance of the lack of attractions currently offered in DHS.