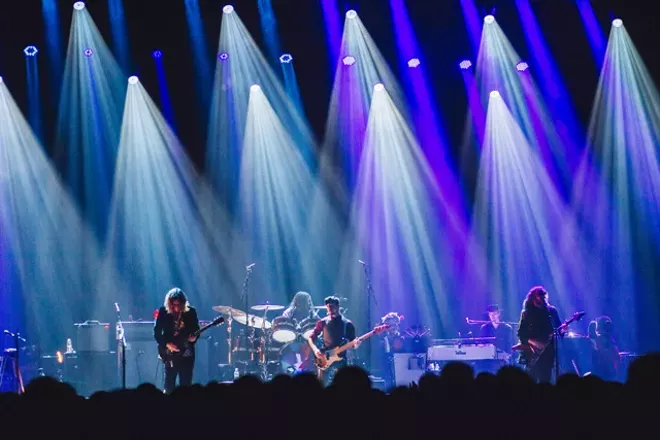 James Dechert
My Morning Jacket at Hard Rock Live

Like Wilco in many ways, My Morning Jacket (Aug. 4, Hard Rock Live) has more or less gotten to the point of transcending genre. They've pulled that difficult act of not just establishing their own domain with its own rules but getting people to buy into it and follow the ride, wherever it may go. It's a rare, impressive and surely liberating feat.
James Dechert
My Morning Jacket at Hard Rock Live
That freedom to indulge your whims unchecked,
however, can sometimes make your constitution lose its shape, rigor and vigor –
just look at the America around you. And My Morning Jacket's career has had its
spells of nebulousness where their dewy haze has become more emblematic of
their vision than just their sonics.


James Dechert
My Morning Jacket at Hard Rock Live
Now there are plenty of genuinely good
songs in MMJ's quiver. But they're sometimes buried in a lot of half-stepped
wank-outs. Without those songs, the grand cloud of their expansive tendencies
would deflate pretty quickly. Live, their sound was unsurprisingly big, plush
and well-appointed. Even if it blunted some of their songwriting teeth, it was
an exercise in lavish sonic craft. Still, a little more salience never hurt
anyone.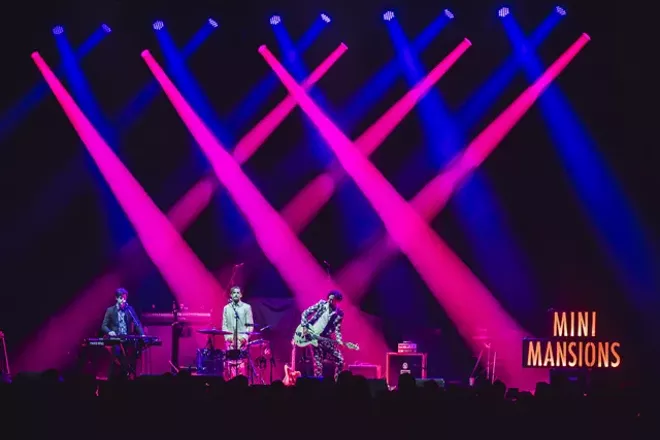 James Dechert
Mini Mansions at Hard Rock Live
Meanwhile, L.A. opener
Mini Mansions
came at it from the opposite end of the spectrum with
oblique pop
cut from tight, svelte lines. Though notable, it's almost not worth
mentioning that the band includes
Queens of the Stone Age
bassist Michael Shuman because of the red herring it throws out there. With perhaps the sole exception of their song "Mirror Mountain" – which sounds very much like a synth reworking of QOTSA and is way more dope than it sounds – Mini Mansions bears little resemblance to that heavy guitar riffage. Instead, they're a wiry trio that leads more with keyboards, stand-up drums and a little
left-field cool.
An actual cover that defines them a little more is their slow-mo undressing of
Blondie's
"Heart of Glass," which was a nice, slinky cherry to an already solid performance.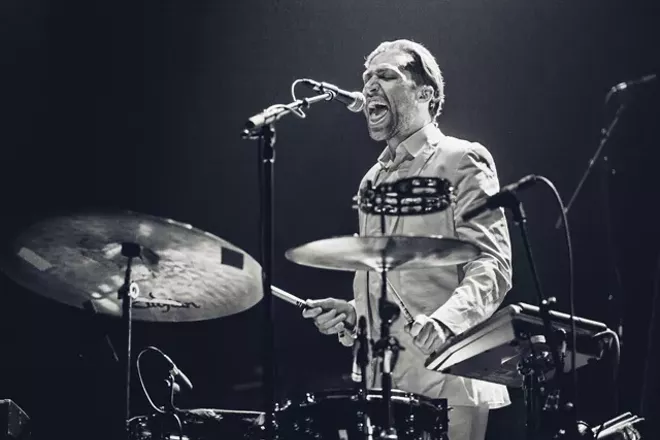 James Dechert
Mini Mansions at Hard Rock Live
James Dechert
Mini Mansions at Hard Rock Live
////////////////////////////////////////////////////////////////////////////////////////////
This Little Underground
is Orlando Weekly's music column providing perspective, live reviews and news on the city's music scene.

Follow Bao on Twitter (@baolehuu)
Email Bao: baolehuu@orlandoweekly.com