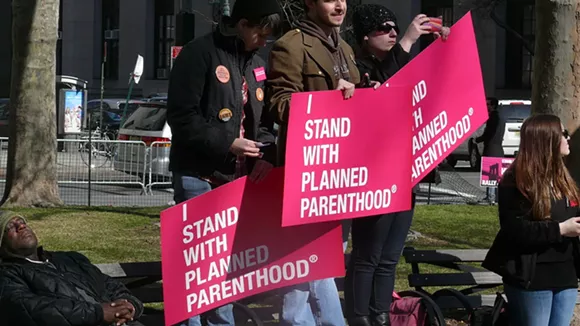 Charlotte Cooper, via wikimedia commons
Less than 48 hours ago, we received the following message from the state Agency for Healthcare Administration regarding Planned Parenthood:
Today, though, we learn that AHCA sent Planned Parenthood a letter yesterday stating that it was authorizing Planned Parenthood's clinics "within the scope of their current licenses to continue providing terminations of pregnancy during the first 14 completed weeks from the last normal menstrual period (i.e., within the first 12 weeks of pregnancy/gestation)."
That's what Planned Parenthood says it has been doing all along, in accordance with the state's guidelines, agreed upon by the state and Planned Parenthood nearly a decade ago. However, after the much-reported Planned Parenthood video debacle (
read about that here
), Gov. Rick Scott did what he always does: He jumped at the chance to get some publicity by insisting that Florida investigate Planned Parenthood's practices in the state. When the investigation was complete, AHCA accused Planned Parenthood of performing second-trimester abortions in violation of the law; only it seems AHCA and the state failed to take into consideration that the first 12 weeks of pregnancy, somewhat confusingly, actually include an additional two weeks to take into account how menstrual cycles work. The state accused Planned Parenthood of offering abortions during the second trimester ... something Planned Parenthood says it has not done.
"In the health centers AHCA reported on we only perform first trimester abortions, which we measure according to accepted medical guidelines and in accordance with Florida regulations as up to 13 weeks and six days from a woman's last menstrual cycle," Laura Goodhue, executive director of the Florida Alliance of Planned Parenthood Affiliates,
told the Wall Street Journal
after the state announced its investigative findings. "This, as defined by rules, is still the first trimester. AHCA has never before indicated any different interpretation of this – including at inspections performed as recently as two weeks ago."
The organization filed suit in Leon County to prevent the state from taking action against Planned Parenthood for the alleged second-trimester abortions and to clarify the rules under which the organization should be operating ... but then this letter came today, which seems to confirm what Planned Parenthood has been saying all along. You can read
AHCA's letter here.

And Planned Parenthood is pointing out that so far, in every state that has investigated the organization so far, it has been cleared of wrongdoing.
"We've said all along that Planned Parenthood follow all laws and has very high medical standards," writes Dawn Laguens, executive vice president of Planned Parenthood Federation of America, in a statement emailed to the
Weekly
today. "The state of Florida's own records from nearly a decade ago clearly state that Planned Parenthood is following the law, and today's news confirms nothing has changed. This underscores what this smear campaign is really about—blocking women's access to birth control, cancer screenings, STD tests, and safe, legal abortion.
"In every state where these investigations have concluded—in Georgia, South Dakota, Indiana, and Massachusetts—officials have cleared Planned Parenthood of any wrongdoing. Planned Parenthood will not back down from the politicians and anti-abortion extremists who are using every underhanded tactic they can to politicize these critical medical issues. Planned Parenthood will keep fighting to protect access to care for our patients in Florida and across the country."

UPDATE:
Today, AHCA sent Planned Parenthood yet another missive. This one,
which you can read here
, attacks Planned Parenthood for allegedly misrepresenting AHCA's stance on its investigation. The agency says that its investigation of Planned Parenthood in Florida will continue, and that "abortions were illegally performed during the second trimester at the three clinics at issue."
We'll keep you posted as things unfold with this increasingly contentious discussion.