Breanna McCollum
Short Rib Cannelone
Visit Orlando
's
Magical Dining Month
starts on Monday, Aug. 24, and runs through Sept. 30. During the promotion, you can try $33 prix fixe menus at more than 75 different restaurants in the area. We were invited to check out
Txokos
' menu for Magical Dining Month, and we liked what we saw.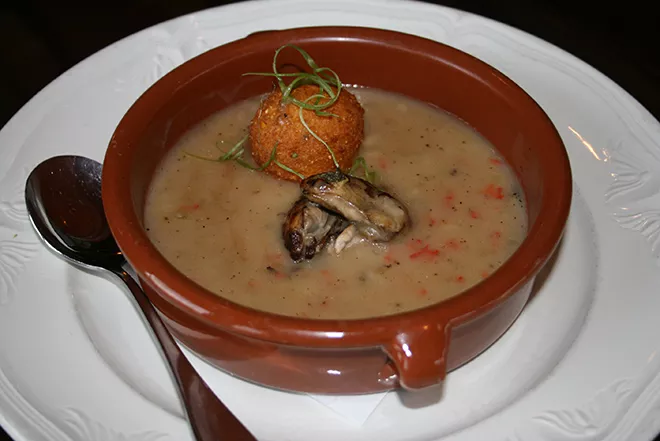 Breanna McCollum
Smoked Oyster Stew
At Txokos, you'll have a choice of four different starters: chorizo-spiced duck carpaccio, smoked oyster stew, smoked tuna or a market salad. The smoked oyster stew was the standout, with a hearty, smoky chowder that combined well with the sweetness of the sweet potato hushpuppy. The smoked tuna was served stuffed inside an heirloom tomato and garnished with oil, balsamic vinegar and a leek soubise – a variation on a béchamel sauce. While we didn't get to try the duck carpaccio, Txokos is known for its use of chorizo in interesting ways, and this dish looked like it was a prime example.
Breanna McCollum
Smoked Tuna
The three choices presented for the main course left us wondering how to decide between them. We had been salivating ever since walking in to Txokos due to the aroma of their wood-fired asador grill, so forgoing the wood-grilled quail was a tough choice. We opted instead for the serrano-wrapped cobia and the short rib cannelone.
Breanna McCollum
Chorizo Spiced Duck Carpaccio
The fish was served on top of a thick hash brown, which was handy for soaking up the piperrada broth that surrounded the dish. The plate that got the most ooh's and aah's at the table, though, was the short rib cannelone. The tender, barbecued meat was wrapped up in a long noodle, kind of like a pasta enchilada, and served with porcini mushrooms, Mornay sauce and crumbled almonds on top.
Breanna McCollum
Serrano Wrapped Cobia
Dessert options consisted of a coffee flan, a fig tart with honey custard and the house favorite Txokos cake. While the fig tart struck a good balance between sweet and savory, the portion difference between the tart and the Txokos cake inspired some jealousy and sneaky bite-stealing from those who finished their tart quickly.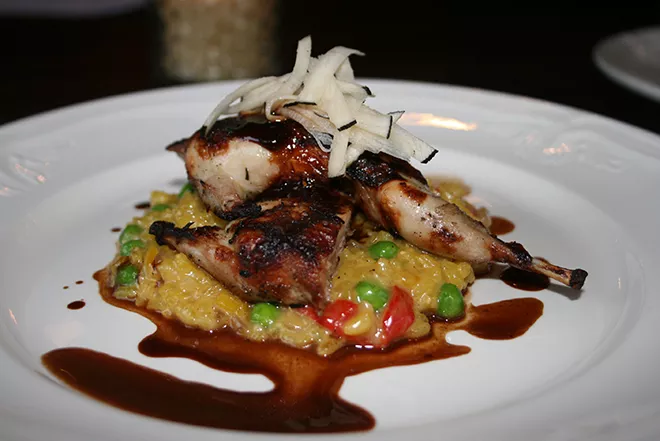 Breanna McCollum
Wood Grilled Quail
Other restaurants participating in Visit Orlando's Magical Dining Month include American Q, Citrus, Kasa, Maxine's on Shine, Rusty Spoon, Smiling Bison and tons more, so check out
their extensive list of restaurants and menus
and plan a nice dinner date or two this month.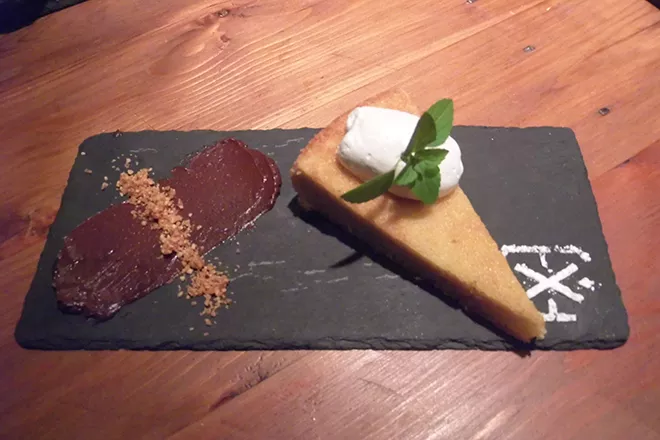 Breanna McCollum
Txokos Cake