THIS LITTLE UNDERGROUND
Jen Cray
Kim Lenz at Will's Pub
Like all die-hard subcultures, the
rockabilly scene
still lives somewhere in the woodwork. Although not as visible or vibrant around here as it once was, all it takes to mobilize them and their wardrobe is a household name. The latest was L.A. leading lady
Kim Lenz
(Aug. 23, Will's Pub), who drew the best-coiffed and most
prêt-à-party crowd
seen in a long time, complete with total drunken revelry and floor-scorching swing dancing. Powered by a good band, Lenz's brass and charisma had the dresses twirling.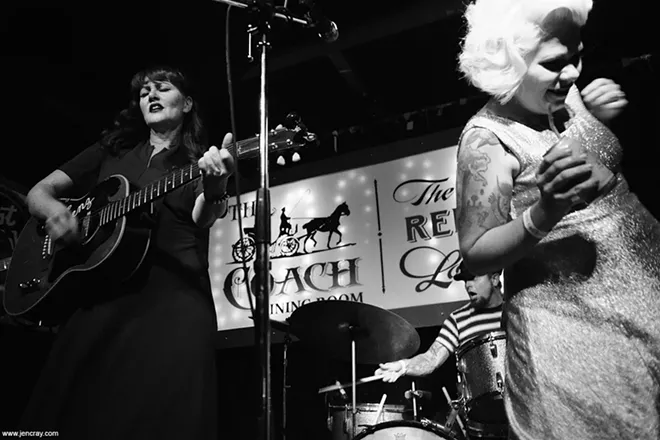 Jen Cray
Kim Lenz with the Wild Tones' Goldie Lamay at Will's Pub
But the act that first got 'em moving en masse was
Little Sheba and the Shamans.
Like the
Detroit Cobras,
this Tampa combo lights new flame into obscure early rock & roll and rhythm & blues songs. Unless you're a specialist aficionado, you wouldn't even know this was a
cover band
(I think the only song I recognized was "Seventh Son"). Their material may be borrowed but it's sourced deeply and, most essentially, played with
original fire.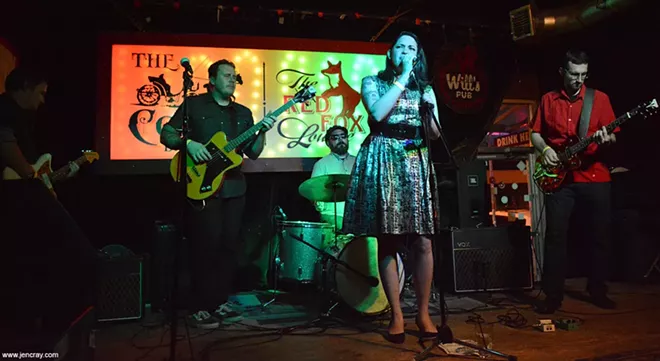 Jen Cray
Little Sheba & the Shamans at Will's Pub
To that end, the unmistakable sun of their galaxy is the seriously tough voice of frontwoman
Ari Little,
which is a
soul-forged wrecking ball
that she's only wielding at partial potential. Without a doubt, enough of it manifested to slap me in the face, but it's evident she's pulling what is clearly a knockout punch. When you're lucky enough to own an engine with that much horsepower, the only wrong you can do is to not open it up and let her rip. And this girl is sitting on a rocket.
Jen Cray
Little Sheba & the Shamans at Will's Pub
Finally, Denver opener the
Drunken Cuddle
kickstarted the night with a nice little storm of spirited
boxcar country punk.
Although they're but a lean, mean trio, they kick up more dust and raise more dead than bands twice their size. They're more than just power, however. Besides their core arrangement of guitar, drums and harmonica, they color their palette further with folksy edges like spoons and tin cans without getting too campy. And through frontman Erik Arvoy's sonorous guitar work, they even ride high on some great, rolling
Spaghetti Western lines.
Tally it all up and you've got one
high-performance stage machine.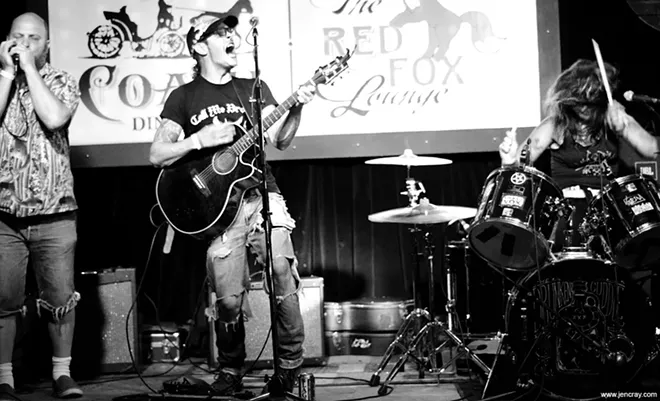 Jen Cray
The Drunken Cuddle at Will's Pub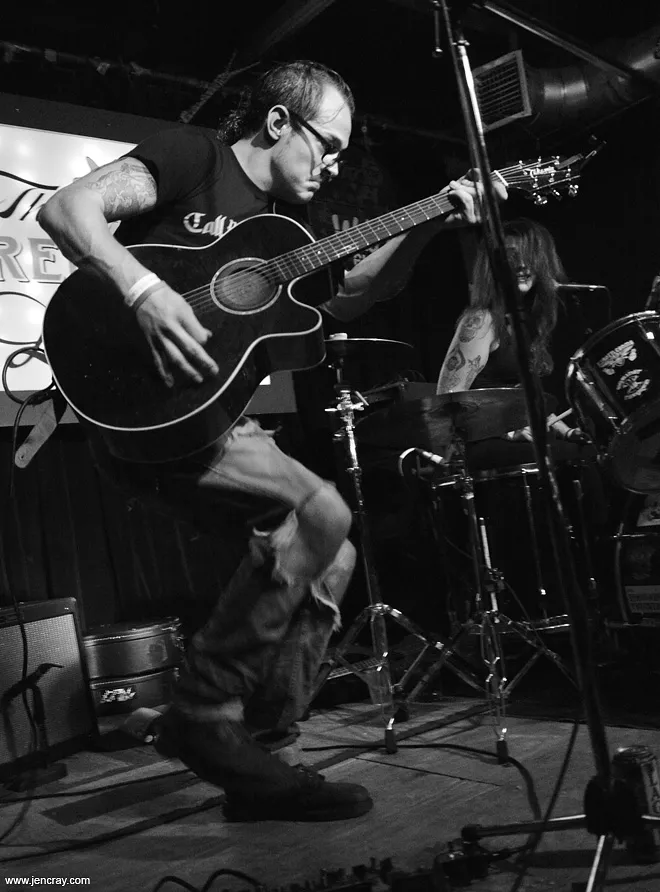 Jen Cray
The Drunken Cuddle at Will's Pub
////////////////////////////////////////////////////////////////////////////////////////////
This Little Underground
is Orlando Weekly's music column providing perspective, live reviews and news on the city's music scene.

Follow Bao on Twitter (@baolehuu)
Email Bao: baolehuu@orlandoweekly.com