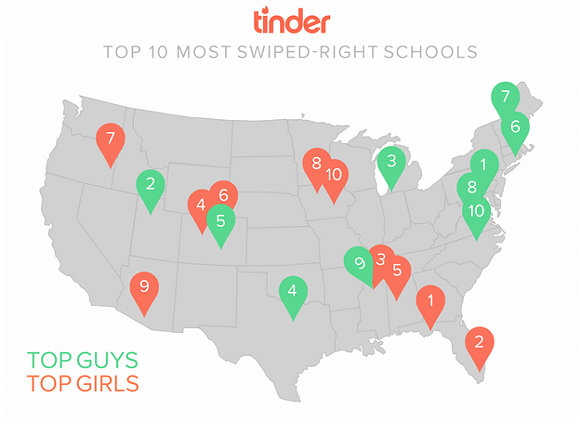 Tinder, the dating app where users connect for "
Netflix and chill
," has recently released its list of college campuses whose students are the "Most Swiped Right."
According to the data, Florida State University took top honors for most swiped women between ages 18-23.
Now, this can only mean two things, either the female student population at FSU are far more appealing than anywhere else in the country, or the male students are so damn thirsty they'll literally swipe right on a potato.
Tough to say without more data.
But besides thirsty bros, there were some other interesting trends. For example, the most appealing women seem to come from mostly southern schools like Florida State University, University of Miami, University of Mississippi and University of Alabama.
The most appealing men however, are hailing from private schools like Georgetown, the University of Notre Dame and Brigham Young and Texas Christian, all of which have religious affiliations.
If you're curious to see if your school made the list, here are Tinder's top schools for both sexes:
Top 25 List: Campuses with Most Swiped-Right Females
1. Florida State University
2. University of Miami
3. University of Mississippi
4. University of Colorado Boulder
5. University of Alabama
6. Colorado State University
7. Boise State University
8. Iowa State University
9. University of Arizona
10. University of Iowa
11. Kansas State University
12. Indiana University
13. Texas Christian University
14. San Diego State University
15. Virginia Tech
16. Miami University (Ohio)
17. Clemson University
18. Ohio University
19. University of Florida
20. University of Kentucky
21. Auburn University
22. Texas Tech University
23. Pennsylvania State University
24. West Virginia University
25. Southern Methodist University
Top 25 List: Campuses with Most Swiped-Right Males
1. Georgetown University
2. Brigham Young University
3. University of Notre Dame
4. Texas Christian University
5. Air Force Academy
6. Yale University
7. Dartmouth College
8. University of Virginia
9. University of Mississippi
10. University of North Carolina Chapel Hill
11. United States Naval Academy
12. Brown University
13. Rice University
14. Tulane University
15. University of Vermont
16. Wake Forest University
17. Cornell University
18. University of Tennessee
19. Ohio University
20. Loyola Marymount University
21. Miami University (Ohio)
22. United States Military Academy (West Point)
23. Mississippi State University
24. Clemson University
25. Boston College