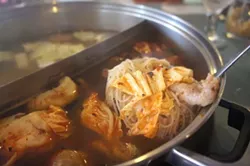 Photo courtesy of Tasty Chomps
We've written
a couple of love letters
to
Hotto Potto
in the past, mostly praising their position as top-class late-night munchies in a town where there's a serious dearth of post-9 p.m. comestibles.
Today, the hot pot outpost turns three years old, and they're celebrating by making every single menu item just $3. Literally, everything. Beer, wine, Wagyu beef, scallops, dumplings — it's all just three bucks apiece.
Best part: If you work late or have a weird sleep sched, the birthday bash is going on until 2 a.m., in true Hotto Potto style, so no matter when you're up today, you can take part in delicious hot pot at your convenience.
Baffled by the concept of Cook-Your-Own? Here's a primer on
how to eat Chinese hot pot like a pro
.