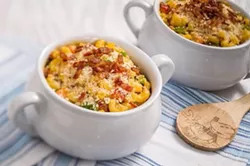 Photo courtesy Walt Disney World Resort
Just in time for the off-season, national foodie site Eater has semi-definitively (there was some disagreement, understandably)
ranked the 11 Epcot country pavilions
in terms of the quality and deliciousness of their food offerings.
We scoped out the new offerings
for
Epcot's International Food & Wine Festival
earlier this year, but this list transcends the six-week culinary festivities.
Heading up the list (#spoileralert): Morocco. Some quotes from the three Eater editors who provided the boots-on-the-ground reporting:
Helen Rosner: "... the food is good, really good, even by heavily handicapped help-I've-spent-the-last-90-hours-in-an-amusement-park standards. ... And Tangierine Cafe might be the single best lunch option in any of the four parks, period."
Bill Addison: "I vote for Restaurant Marrakesh, hidden in the back of the pavilion's maze-like medina, as the most transporting place to dine in Epcot."
Amanda Kludt: "You can leave a meal [at the Morocco pavilion] and almost feel like you did something good for your body."
The next two on the list? France and Italy. See if your favorite
made the list
.
The Epcot International Food & Wine Festival begins Sept. 25, and tickets for one park these days are $97 each, not including food and drinks, so start saving your pennies and
make reservations at the main restaurants
now.