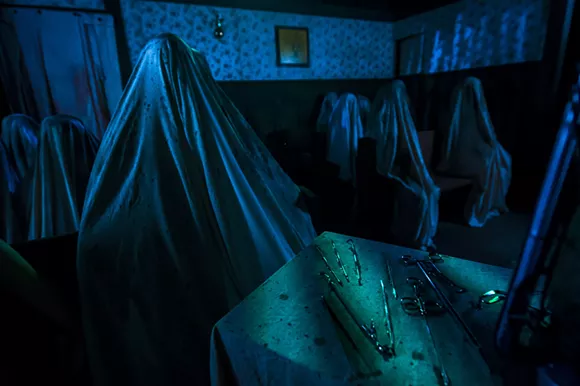 Insidious at Universal Orlando's Halloween Horror Nights
Last night, in a tucked-away soundstage of Universal Studios, Universal director of entertainment Michael Aiello took the floor to reveal a few additional details about this year's 25th anniversary celebration of Halloween Horror Nights. Costumes and props from the various houses were scattered playfully around the room, makeup stations brought a nymphish scareactor to life, and carnival music from the depths of hell set the tone.
Michael Aiello presents HHN25
While the blood and guts of our coverage will come from next week's opening night festivities, we did receive a few additional details about this year's haunted attractions. The
Freddy vs. Jason
house, for example, will feature a thrilling sequence projected on the screen where the two horror icons will battle it out. Jason will then be knocked toward the side of the screen, where a live actor playing Voorhees will finish the loop, bringing the sequence to life.
Many already know that the fan favorite
American Werewolf in London
house is making a triumphant return. But this year, they'll be adding an additional werewolf puppet to the house for more frights. Adding to the list of repeat offenders is yet another
AMC's The Walking Dead
themed attraction. This will follow the most recent season of the series, and it was promised that there was an emphasis on building upward, rather than across, bringing a new level of scale to the experience. The presentation then concluded with the first appearance of
HHN
poster boy Jack the Clown in years — a very welcome homecoming.
We were then treated to a walk-through preview of the new
Insidious
house, based on the popular horror franchise by James Wan. While we were assured it was only around 80 percent complete, as both a re-creation of the films and a haunted attraction, it was wildly successful. In fact, it was so exhilarating that we came back for seconds.
Combine these with a fresh new energy from the brand, amped-up scare zones and ferocious new stage entertainment, and it looks like this year's Halloween Horror Nights is going to be one for the books. If you've worried that the past few years have been stricken with a sense of sameness, this might be a good time to reacquaint yourself with Orlando's premier Halloween holiday experience.
Check out our
48 sneak peek photos from Universal's Halloween Horror Nights 25
.