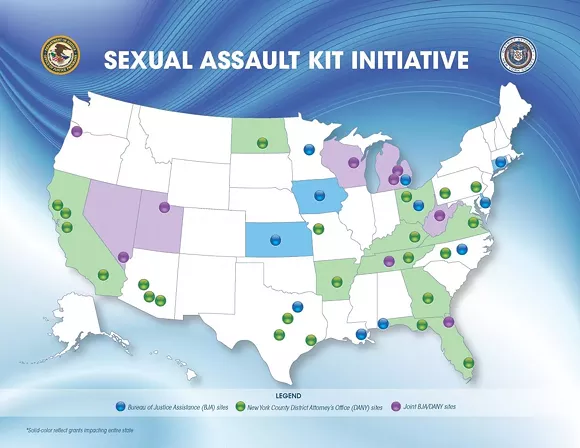 The fact that a rape kit could ever sit untested is almost unbelievable – when a woman is raped, and she agrees to undergo an invasive medical exam to obtain enough evidence that could help track down her attacker, the last thing she expects is that her rape kit will sit untested for weeks, months, sometimes years on a shelf before anyone touches it.
Yet
hundreds of thousands of
these tests have collected dust on the shelves of law-enforcement agencies across the country. It's been an issue that the Joyful Heart Foundation has been trying to call attention to for years, and last year President Barack Obama proposed a budget that would include more than $36 million to help states get those kits tested and fund ways to make sure they don't fall behind again (his 2016 budget also included funding for the initiative). In 2015, Gov. Rick Scott signed a budget bill that granted $300,000 to the Florida Department of Law Enforcement to conduct an audit of untested rape kits in the state – to date, nobody's sure exactly how many there are, because nobody's counted them, and the FDLE isn't scheduled to report back on the matter until January 2016. In July,
NBC Miami reported
that the Jacksonville Sheriff's Office said it had 1,500 untested kits – some of them more than a decade old.
So Florida Attorney General Pam Bondi made a big splash when she announced on Sept. 9 that she also wants to make sure the state clears its backlog of cases, which she estimated to be in the thousands. She promised to support "legislative funding to add state crime lab capacity" and to help eliminate "the pay disparity between state and county late technicians." She also wants to use private labs to test some of the kits and ask agencies and crime labs to "develop a model policy for submitting any unprocessed sexual assault kits for testing."
Interestingly, her announcement came just one day before Manhattan Manhattan District Attorney Cyrus R. Vance, Jr., a Democrat to Bondi's Republican, announced today that he's going to be sending Florida a bunch of money to accomplish some of those same goals – he's sending the FDLE $1,268,540 to test 2076 kits, $1,968,246 to Miami-Dade County to test 2,900 kits, and $163,939 to the Tallahassee Police Department to test 225 kits.
According to Vance's office,
the money comes from asset forfeitures from international banks that violated U.S. sanctions. You can read his complete
press announcement here.

Today, the U.S. Department of Justice Bureau of Justice Assistance also made a major announcement about rape-kit backlog funding – it announced grant recipients for fiscal year 2015 for its $41 million Sexual Assault Kit Initiative grand program, and
Florida's State Attorney's Office for the Fourth Judicial District
(that's Angela Corey, up in Duval, Clay and Nassau counties, by the way) was awarded $1,995,017 to reform how it handles rape kits. You can read the complete
list of grant recipients here.