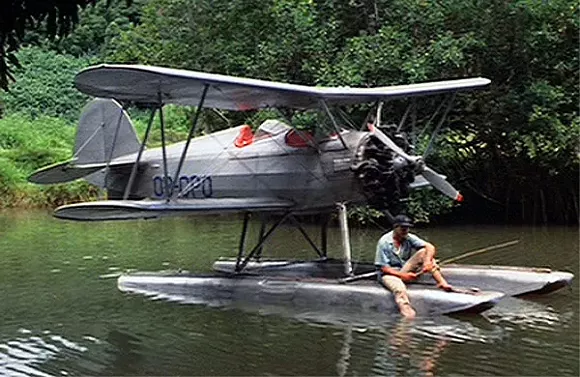 Jock Lindsey in Raiders of The Lost Ark.
Disney has announced that Jock Lindsey's Hangar Bar is set to open on
Sept. 22
. The Indiana Jones-themed bar sits along the shores of Village Lake nestled between The Boathouse and Paradiso 37. Featuring specialty drinks and light bites, the new bar can be viewed as an updated version of the former Pleasure Island clubs.
Themed after a background character from the Indiana Jones films (Jock is the guy who flies the plane in Raiders of the Lost Ark). While his screen time is rather short, Jock does have a surprisingly rich background story that includes his snake Reggie, and training in the air shows that filled the skies of the Midwestern United States throughout the 1920s and '30s.
The idea of highly immersive themed areas has a long history but most credit Universal's impressive theming with their Harry Potter areas as the thing that helped usher in the era for themed environments. Since then, Disney has brought the Trader Sam's concept from their California resort to Florida and has opened a new highly themed dining area in the Africa section of Animal Kingdom.
Disney Springs, where Jock Lindsey's is located, is going through its own updating. Formerly known as Downtown Disney, the shopping and entertainment district now has a cohesive, detailed theme that stretches throughout the complex. Jock Lindsey's is styled after an old airplane hangar and even includes an update to the biography for the character in the films (he retired to the small town of Disney Springs after his many adventures around the globe). The bar will reflect this storyline with its numerous props and details.
The bar will include many small nods to Indiana Jones and the numerous jokes within the franchise. Local Disney blogger
Nick Ilasi recently leaked a couple of images
of the new collectable coasters that the bar will feature. The highly detailed coasters include nods to Indiana Jones jokes, such as Reggie the Snake, and nods to Disney itself, such as the Established 1955 (the year Disneyland was opened). Overall, the new coasters are good sign of the extensive details that the new bar will feature.
The 'opening' may not include some of the signature glasses that so many are looking forward to. There have been some rumblings, all unofficial of course, of a delay in the arrival of the cups due to unexpected issues with shipping. Once they do arrive, the cups are sure to be an instant hit in the same vein as their counterparts are over at Trader Sam's.
With this latest opening, Pleasure Island's transformation into The Landing is almost complete while aspect of Disney Springs, such as the Town Center (formerly the surface parking near PI), still have many months to go before any hint of an opening.