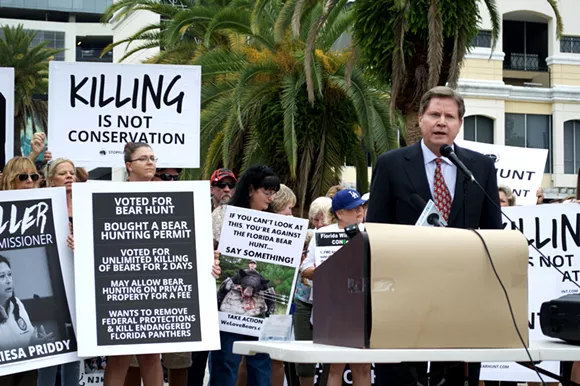 Chuck O'Neal, a member of Speak Up Wekiva who helped file a lawsuit against the Florida Fish & Wildlife Conservation Commission to stop the bear hunt, speaks at a rally on Sept. 24.
As the deadline inches closer for Florida's black bears, opponents of the state's bear hunt gathered in Orlando on Thursday to protest.
The rally, organized by The Girls Gone Green's executive director Julie Watkins, was held by Lake Eola and had several speakers, including Chuck O'Neal. O'Neal, who is a member of the conservation group Speak Up Wekiva, helped file a lawsuit against the Florida Fish & Wildlife Conservation Commission to stop the hunt starting on Oct. 24.
The group filed an
emergency petition
last week saying licensed hunters would be allowed to kill an unlimited amount of Florida black bears during the first two days of the week-long hunt that ends Oct. 30. This rule, combined with the fact that more than 2,000 licenses have been sold so far, would allow hunters to legally surpass the FWC's quota of 320 bears, the petition says.
A circuit judge will hear both parties at a hearing Oct. 1. Gov. Rick Scott, who appoints members to the wildlife commission, has said through a spokesman that he will not intervene to block the hunt.
At the rally, O'Neal and other animal welfare advocates reiterated that wildlife officials ignored 40,000 responses made to the agency by the public, with 75 percent of those responses opposing the hunt. Speakers urged people to buy bear-proof garbage cans, which have been found to drastically reduce interactions between humans and bears. Protestors carried various signs about the bears, with many targeting FWC Commissioner Liesa Priddy. Hope Lamb and Tim Hargis came to the protest and performed a catchy song they wrote yesterday dedicated to the bears called "Stop The Madness."
"The FWC proposed hunt will do absolutely nothing but leave a scar upon this state — a state that survives on the appeal of its natural beauty to draw nearly 100 million visitors per year," O'Neal said to the crowd. "If it is allowed to proceed, the repercussions of this hunt will be felt at every cash register of every business in this state."
After the rally, O'Neal says the underlying reason why the FWC is targeting the bear and to an extent the Florida panther is to make way for more development in the state.
"This fight for the bears is really a fight for the soul of Florida," he says. "Do we want to keep our natural beauty or turn into a place like South New Jersey?"