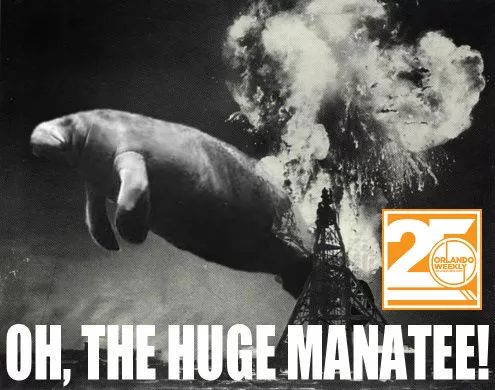 This year we're celebrating our 25th year in existence. And, so, every Thursday we'll be taking a look back at a few of our favorite highlights while covering the vibrant Central Florida scene.
This week, we look back at "
Eat at Dougs
," a satirical article in which our writer Jeffrey Billman purported to have stumbled on a secret restaurant that served manatee. Perhaps, just maybe, in retrospect, we went a little too far. Here's an excerpt:
Jim and Bub watched each other, smirking. Ultimately, Bub couldn't keep quiet anymore. "Mr. Billman, you're about to tear into a 100-percent, grade-A, free-range, Florida-raised dugong steak."

"Dugong?" I asked.

"Manatee."
The article, a cover story which was published May 22, 2003 (we didn't even have the excuse of April Fools' Day), detailed the long and secretive trip out to a shack out in the middle of the Everglades where, for a price, customers could chow down the beloved marine mammal sometimes also called a "dugong." Get it? "Eat at Doug's"?
Needless to say, people fell for it, and 12 years later, they still do.