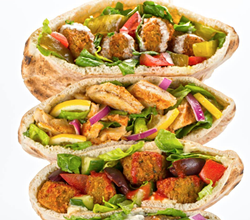 Photo courtesy Hubbly Bubbly Falafel Shop via Facebook
We've been in love ever since we took our first bite of that Bubbly Pocket full of warm, fresh-from-the-fryer seasoned chickpea patties, homemade hummus and creamy tzatziki. Moar plz.
Hubbly Bubbly, on the north end of Edgewater Drive near the corner of Fairbanks Avenue, is
celebrating its second birthday on Saturday, Sept. 26,
with a event sure to draw a crowd.
There will be free food, free beer (yes, free BEER) and free sunglasses. All proceeds from extra sales will go to benefit
Cannonball Kids Cancer
, which is appropriate, as September is Childhood Cancer Awareness Month. Way to be current, Hubbly!
We also can't wait to get our paws on some of those new "sweet cakes" for dessert: griddled dough filled with nutty filling, folded and deep fried and then dipped in rosewater syrup and sprinkled with powdered sugar (sort of like a baklava empanada). See a video on Hubbly Bubbly's Facebook page on
how those delicious little pockets made
.