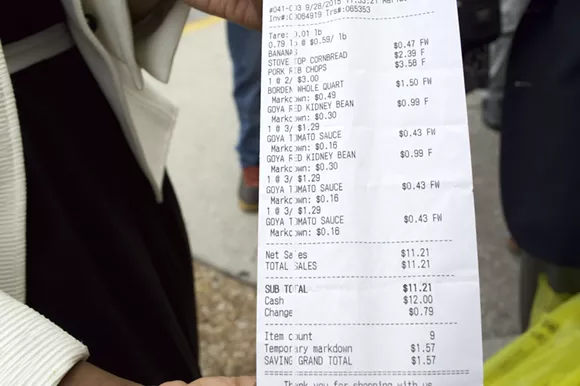 An aide for Florida Rep. Vic Torres Jr., D-Orlando, displays the representative's receipt from Sedano's.
With less than $12, state Rep. Vic Torres Jr., D-Orlando, bought a small supply of groceries for dinner tonight and breakfast tomorrow from Sedano's Supermarket in Orlando. The purchases for Torres and his wife included a couple of cans of red kidney beans, tomato sauce, a quart of milk, bananas and pork chops, which was the most expensive item he bought at $3.58.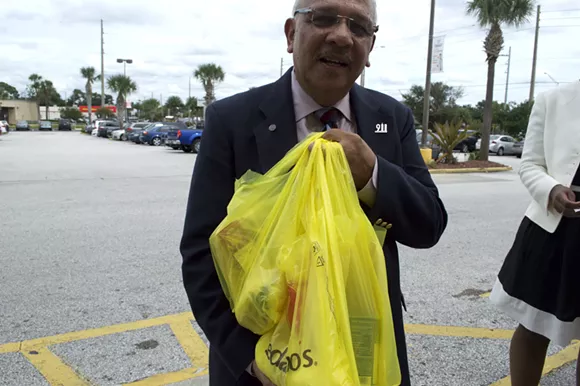 Florida Rep. Vic Torres Jr., D-Orlando, with his purchases from Sedano's.
Torres was at a rally in front of the store on Monday, Sept. 28, to join in the minimum-wage challenge with other state legislators and raise awareness about the struggles low-wage workers face. During the next five days, 18 Democrats from the Florida House and Senate will live on $17 a day, which is the average daily budget of a worker making $8.05 an hour.
"We have been struggling for so many years to make ends meet," Torres says. "This time, I'm going to challenge those of you out there who haven't lived like the rest of us at $8.05 an hour and let's see how far that takes you."
Legislators, organizers and activists rally for a minimum-wage increase in front of Sedano's Supermarket in Orlando
Torres and State Sen. Dwight Bullard, D-Miami, recently filed two bills, HB109 and SB6, in the Florida Legislature respectively to raise the state's minimum wage to $15 an hour. The Florida Fight For $15 and other activists organized two other rallies in Miami and St. Petersburg. The legislators in Orlando were also joined by 2016 congressional candidate Susannah Randolph, her husband, Orange County Tax Collector Scott Randolph and the recently resigned Orange County Democratic Executive Committee Chair Carlos Guillermo Smith, who is now a candidate in the race for Florida House District 49.
State Sen. Geraldine Thompson, D-Orlando, says the last time she live on minimum wage was while she was attending Florida State University in the 70s. She's thinking about transportation this week, because she will have to use the public bus system to stay within her budget.
"At the state level, I know how much goes into subsidizing the people who earn minimum wage," she says. "If we gave our workers a raise, they wouldn't have to rely on food stamps, they could buy better food to be healthier and not visit the emergency room as much."
Any Dominguez, who's worked at a nearby Taco Bell for 15 years and earns $8.20 per hour, led Torres through the aisles of Sedano's looking for the cheapest deals. Dominguez says she is an expert in getting the most bang for her buck because she has to be.
"I'm the main provider for myself and my four children, and I'm always looking for specials because we don't have food stamps," she says. "It's hard. I think people that are saying we are asking for too much have never been in our place."