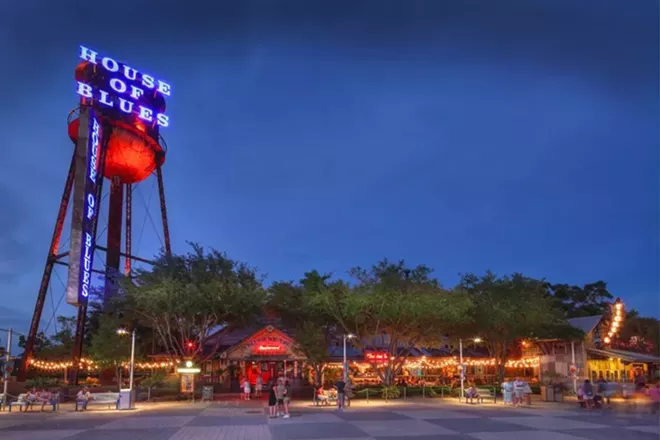 Photo via House of Blues Orlando
Just two months after the
graphic rape
that filled local news, the Disney Springs-based House of Blues appears to be ending their weekly DJ fueled music night. The House of Blues has been one of the last remaining places at Walt Disney World for DJ-based entertainment.
House of Blues has now shifted to a fully live entertainment venue. The weekly DJ events didn't take place in the restaurant space most are familiar with, but in the connected club where concerts are held. While the Wednesday night event was popular, House of Blues was best known for their Sunday night Service Industry Night.
The House of Blues Service Industry Night was a popular spot of cast members, college program participants and others locals involved in the industry. House of Blues went as far as to claim it was the "Original Service Industry Night." While new venues began marketing more to service industry personnel, the House of Blues remained by far one of the most popular choices and its closure comes as a surprise to many.
The closure of the weekly House of Blues events will leave cast members and Disney World lifestylers with few on property DJ-based entertainment options (in-park family dance parties not couning).
Rix Lounge
and
Atlantic Dance Hall
are now two of the few remaining spots to catch regular DJ performances. Rix Lounge has a similar third party owner as the Disney World House of Blues. Rix's owner
Palmas Services
is the third party food and beverage operator in both the Disney's Coronado Springs Resort and Epcot's Mexico pavilion. Other WDW venues do still occasionally offer DJs.
There was
some initial confusion
surrounding the ending of House of Blue DJ events with some reporting that DJs and HOB personnel were stating that the DJ nights would be shifted to a once a month schedule instead.
Signage now confirms
that this won't be the case. The final Rewind Wednesday was Sept 16 while the final Service Industry Night will be Oct 4.