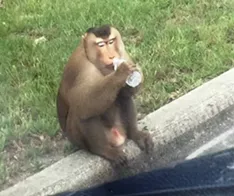 In perhaps the most heartwarming local animal news we've heard all year, the
Sanford Police Department reports
today that they were able to reunite a monkey with his owner.
Residents of the Hidden Lakes neighborhood called the authorities after observing the macaque perched on a mailbox, chowing on important documents and coupons. From the SPD's Facebook page:
Shortly after 8:00 a.m., we received a call from a Sanford resident that lives in the Hidden Lakes subdivision reporting that a monkey was eating mail out of a mailbox. When we arrived to help the monkey, later identified at Zeek, decided to pull off molding from one of our patrol cars. We were able to distract Zeek with a bottle of water until his owner came and retrieved him.
According to the Florida Fish and Wildlife Commission, owner Jeff Jacques is properly licensed to own the monkey, and
WFTV reports
that Zeek, who had broken out of his cage, jumped into Jacques' arms upon their reunion. (Awww.)
This is a nice change from escaped cobras and marauding bears, frankly; Zeek wan't even missing long enough for a parody Twitter account to get going.
Below, a video the Sanford police shot of Zeek jacking up their cruiser.