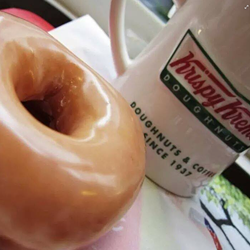 Photo courtesy Krispy Kreme Winter Park via Facebook
We don't know about you, but as long as these National _______ Days yield free food, we're in.
Here are the local deals for free cuppas on National Coffee Day, which is Tuesday, Sept. 29. Plan your commute accordingly.
Krispy Kreme
What's free: 12-ounce coffee and one glazed doughnut
Plus: Get a small iced coffee, latte or mocha for just $1
Starbucks
What's free: Well, nothing for you (except a warm, fuzzy feeling in the cockles of your heart), but Starbucks is giving back to deforested communities where their farmers live by planting a coffee tree in your honor for every bag of Starbucks coffee you buy in their stores.
Dunkin' Donuts
What's free: One medium iced or hot dark roast coffee (one per guest)
Wawa
What's free: Any size coffee of your choice – no specialty drinks, though.
Brooklyn Water Bagels
What's free: Get a free Cold Brewsta (
iced coffee with coffee ice cubes
), plus any syrup you like, with any purchase. Hot 12-ounce coffees are only $1 all month.