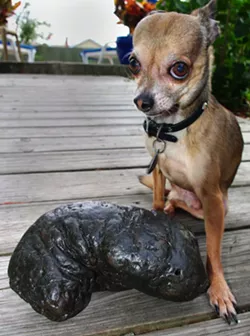 Photo via George Frandsen
An image of Frandsen's dog, Kung Pao, next to Precious, the largest coprolite in his collection. Precious weighs over 4 pounds and is between 5- and 23-million-years-old.
Jacksonville resident George Frandsen now owns the Guinness World Record for largest private collection of fossilized poop.
But this isn't just any old poop. These are coprolites, and the organic matter they contain can give scientists new insight into the lives of long-extinct dinosaurs.

"People hear about poop and they joke and they laugh and they think it's funny – which it is – but if you look into it, if you study it, you can look into past environments, you can look at what animals ate, you can see the kind of environments they lived in. You can't necessarily do that with bone fossils," said Frandsen, whose collection contains 1,277 coprolite samples.

Frandsen's love for fossils began when he was a child living in Utah; his family would go on camping trips, and he'd find fossils lying on the ground. His love of coprolites, however, didn't begin until his first year of college, when he bought his first sample in a rock shop.


It took 18 years, but that single piece eventually grew into a collection that occupied a room and several closets in his home. Thankfully, Frandsen said his wife is very tolerant of his scientific endeavors.
"I have a very loving and patient wife," he said. "At first, she wasn't a big fan; she still isn't when one of [my coprolites] is sitting on the kitchen table. But she allows our house to be filled with prehistoric turds – what more could you ask for?"
Frandsen's Guinness World Record collection was confirmed as the largest in the world on Aug. 1, and will be on display at the South Florida Museum in Bradenton this Saturday.

Jeff Rodgers, director of education for the museum, said that coprolites were a great way to get people – especially kids – interested in fossils. "There's just something about a big collection of poop like that that makes people stop in their tracks," he said. "But these have great educational value – because you can often find teeth and bones and fins and claws in [coprolites], they act like little time capsules, and you can begin to reconstruct entire extinct ecosystems based on what you find in them."

To learn more about coprolites, visit poozeum.com.