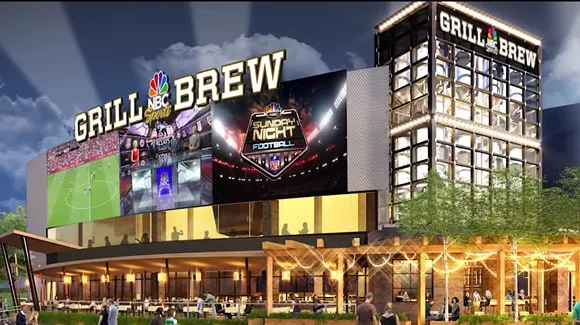 Steven Jayson, the corporate executive chef at NBC Sports Grill and Brew,
sent a out a tweet Monday
stating that the restaurant will open its doors Oct. 6.
The tweet, which has since been deleted, said "We are ready! 5:00pm tomorrow we open NBC SPORTS GRILL AND BREW. Can't wait." More than likely, Universal's PR team wanted to drop this knowledge, but hey, now it's out there.
According to the
Orlando Sentinel
, which is also claiming that the restaurant will open today, the new addition to CityWalk plans to host a grand opening on Oct. 23.
Universal says
the new NBC Sports Bar & Grill will feature 90 large screen HDTVs inside and Jumbotron-sized screens on the exterior, 100 beers available (including an exclusive draft) and exterior seating in a beer garden.