Photo via SLAL.org
This is Heliotrope, an adoptable kitty from the South Lake Animal League. Maybe they'll bring her to the party?
We heard a few objections
last time we blogged about the Orlando Cat Café
: "It's in Clermont, not Orlando"; "Gross! Food next to all those litter boxes?" and so on. (Also, some people were not quite clear on the concept: For the record, a cat café is a place where you go to sip coffee and play with –
possibly adopt
– cats ... not a place you take your cat to visit other cats. That will end in blood. Don't do that.) The press release spells it out: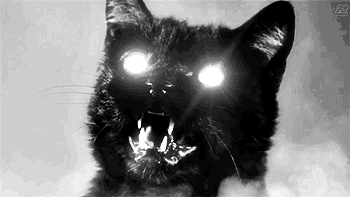 People are pretty excited about the Orlando Cat Café opening.
"The Orlando Cat Café will include a cozy coffeehouse with comfortable furniture, premium coffee, and 12 to 15 cats roaming freely. But if you want to grab your coffee and go, that's fine as well. The cat café will have its own entrance to comply with any health and food safety compliance guidelines. Between sips, customers will be able to pet and cuddle the critters at will. The area will consist of a 750 square foot cat lounge, a hidden room for litter boxes, with the separate space where baristas prepare coffee and snacks. Plans to serve wine and beer are also in the works."


Orlando Cat Café owner and Cagan Crossings developer Sandy Cagan earlier opened
Simka's Sweets Ice Cream
, dedicated to her beloved cat's memory and love of ice cream. But she wanted to do more to help homeless cats, and when she saw a TV segment about a New York cat café, "It was like an actual lightbulb lit up over my head!" She reached out to the
South Lake Animal League
to make her dream a reality, and has been working at it since early 2015.
Meanwhile, ever since word got out about the café, we'e gotten a steady stream of "WHEN????" emails from readers. Well, Wednesday is your lucky day, felinephiles. From noon until 7 p.m., the SLAL and Cagan co-host a groundbreaking party at the Orlando Cat Café (which, yes, is at Cagan Crossings in Clermont). This is a fundraiser for their construction and eventual grand opening, so it you're into it, go prove your love.
Details:
Orlando Cat Café Open House and Launch Party
noon-7 p.m. Wednesday, Oct. 14
Town Center at Cagan Crossing, 532 Cagan Park Ave., Clermont



Featuring:
Adoptable cats from South Lake Animal League
Food Trucks
Live Music
Family Fun Activities
Local Artists and Photography
South Lake Animal League Woof Bus (Just saying: Who brings a bus full of dogs to a cat party?)