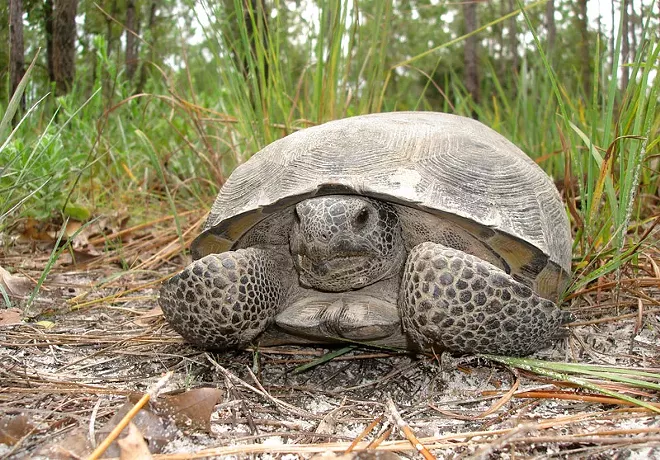 The plight of a
gopher tortoise
whose habitat is threatened by development is tragic, on par with the plight of that poor gopher tortoise that was tossed into a body of water by a clueless good Samaritan (you can read about that
here
).
The land-dwelling turtles, which are a threatened species in Florida, spend a lot of their time in burrows they dig deep in the ground. If the animals aren't discovered and relocated before a house or a parking lot or a strip mall is built on the plot of land the tortoises call home, then
they're literally buried alive.
And it's not a quick, painless way for them to die. Once the entrance to a burrow is paved over, they'll attempt to crawl to the surface of the earth. When they get to the top, they hit asphalt and can't break through. They'll attempt to scrape away for days, or even weeks, until they eventually die of starvation, exhaustion or dehydration.
Oviedo woman Carissa Kent has made it her mission to save as many tortoises as she can from this horrific fate. She runs a project called Saving Florida's Gopher Tortoises that goes to potential construction sites where tortoises are known to burrow, and with a backhoe, some shovels and the help of volunteers, she digs up all the gopher tortoises she can find and transports them to wildlife preserves where they can live without the threat of development.
While Florida developers who apply for building permits now need to agree to relocated gopher tortoises from their properties before they can begin building, there are still some developers who have what are called incidental take permits – that is, a permit that allows them to legally build over gopher tortoise burrows without relocating. The state no longer issues ITPs, but there are some that were issued between 1991 and 2007 that are still valid, and developers who have them can continue burying tortoises alive. Kent's project focuses on working with developers and the FWC to remove tortoises from sites where ITPs are still in play. In fact, she says, she's on a dig right now and these little babies were just uncovered from their tiny burrows: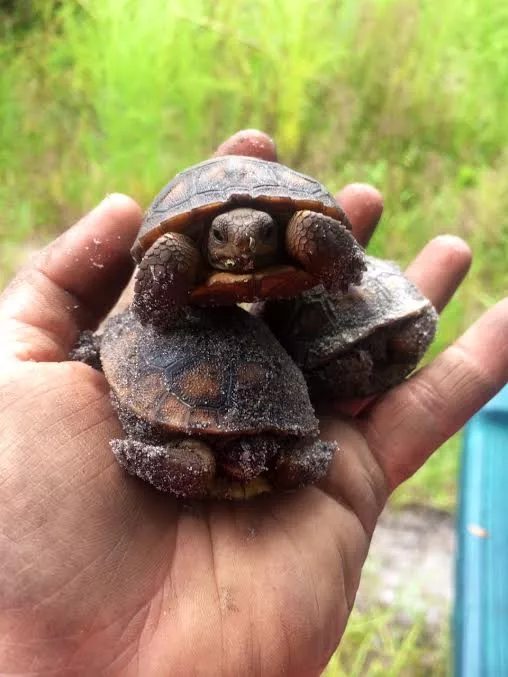 To date, Kent has rescued thousands of tortoises, and now she's trying to raise money to rescue another 300 that are being threatened by development. According to a message posted on Go Fund Me, the project has funding for many of the digs it has scheduled for the year, but this one wasn't part of the budget.
Want to help save these tortoises from development?
Donate to the project
– so far, $2,700 of $30,000 needed has been raised. Don't have any cash to spare? Then
download this app
from the Florida Fish and Wildlife Conservation Commission, where you can record the location of gopher tortoises you spot in your yard or neighborhood.