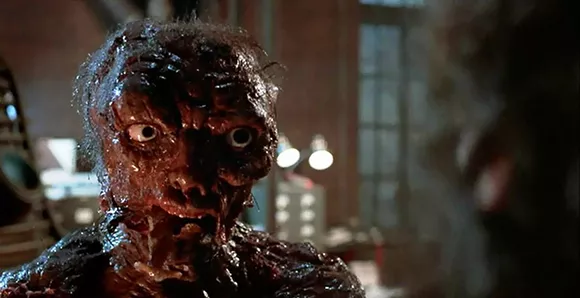 The Fly
Jeff Goldblum's costume wins every year.
October is about a lot of things - all of them good:
freaky/funny costumes that encourage you to gape at strangers

treats every day because they just look so spooky (good job, Corporate America)

pumpkin bullshit in everything (because people don't know that junk's just canned squash; nice costume, Corporate America)

horror movies on every screen

temperatures dropping (instead of people dropping like flies, you know, cuz the heat) (great, now I want to watch The Fly).
What I'm saying is: October is great, and Halloween concerts make the month even cooler by incorporating fun bands and themes into one-off parties and sets that elevate the specialness of the holiday. Opt to treat yo self to one of these shows if your Halloween plans aren't already set:
Photo by Jen Cray
The Sh-Booms
3rd Annual Thornton Park Halloween Block Party
(RSVP!)
8 p.m. Saturday, Oct. 31 (entrance at Dexter's Thornton Park)
Costumed thrillseekers swarm Thornton Park's Halloween Block Party for a chance to compete for a $500 prize, which attracts a lot of invested weirdos to serve as impressive eye candy for anyone just out there lurking. Add to that, the deeply schooled DJ Spreadsheets adds a special spin to the night, plus live music from the Sh-Booms whose screaming soul shakes you to the core.
ASTRO WAVE at Will's Pub
(RSVP!)

9 p.m.; 11:30 p.m. Saturday, Oct. 31
This one is a little bit of a mystery but I fail to see how that could ever dampen spirits on Halloween. Rumor has it Will's Pub will be converted into a spaceship by the minds that transformed the venue in years past to perform outlandishly staged renditions of things like the
Pulp Fiction
soundtrack and Prince's
Purple Rain
. With installations by the Shine Shed (who did
those trippy Moon Jelly effects
we lost our minds over) and led by adventurous musical madman Gerald Perez (Maximino, Thee Wilt Chamberlain), it's an otherworldly option that's flexible to any other plans you might have, with an early and late show. (Bonus: Next door at Lil Indies find Smilin' Dan with his
Discoween
.)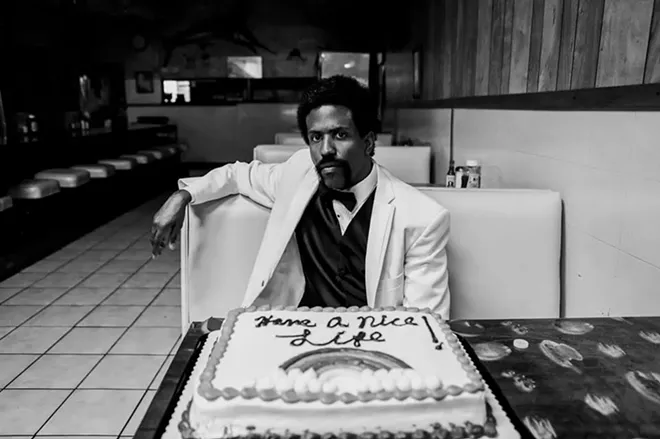 MURS and SplitSoul
(RSVP!)
+ Midnight Halloween Bash at Backbooth
(RSVP!)
7:30 p.m. Saturday, Oct. 31
No big deal, just one of L.A.'s best-ever underground rappers is in town on Halloween to freak up your already not-normal night. Orlando MC SplitSoul helps hold it down until midnight when the party opens up to invite in outsiders prowling the costume-flocked streets downtown - which is one of the best ways to spend Halloween if you're a peoplewatching fiend anyway. There's a $50 bar tab for best dressed, so make sure your costume is on point.
Photo by James Dechert
American Party Machine
Tables, Ladders & Chairs Halloween Scare with American Party Machine and Hurricane Charley at West End Trading Co.
(RSVP!)
8 p.m. Saturday, Oct. 31
If you know American Party Machine, you know they don't need a holiday as an excuse to play dress-up. The bizarro rockers invade Sanford's West End Trading Co. with a specific theme in mind: Come dressed as your favorite wrestler. The Facebook event mentions a prize, but we're not sure what it is or who you might have to literally take down to claim it. But that's just more mystery! Isn't Halloween the best?!