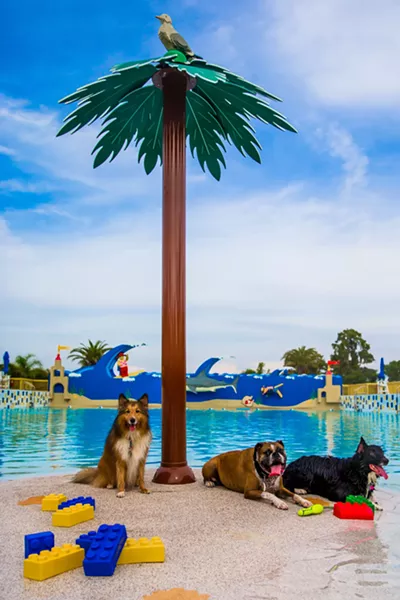 Legoland is either a dog's dream come true or his worst nightmare – fake plastic Lego people everywhere to either pee on or scare the crap out of you, weird giant Lego construction blocks to ether pee on or scare the crap out of you, bizarre smells of thousands of people to either pee on or scare the crap out of you.
Which is why Nov. 8 should be an interesting day for dogs whose owners bring them to visit the Legoland water park in Winter Haven. The water park – which is basically a theme park full of giant water bowls you can walk in, if you're a dog – will
open its doors to dog guests
from 1 p.m. to 4:30 p.m. to play in the wave pool, Safari pool and Joker Soaker pool. There will be doggie costume contests, games, caricature artists and more, and it's a benefit for the Humane Society of Polk County.
Registration is required,
and admission is granted on a first-come, first-served basis. To get in, it'l cost you $5 per dog and $10 per person, and you can only bring one dog per person.
Want a doggie VIP experience? Spring for the $55 ticket, which gets you complimentary snacks, beverages and Champagne and a spot in the reserved sandy cove that overlooks the pool.
it should go without saying that if your dog is the type that is more likely to be scared of Legoland than enjoy it, you should probably leave him home. Humans without dogs are welcome at the event.