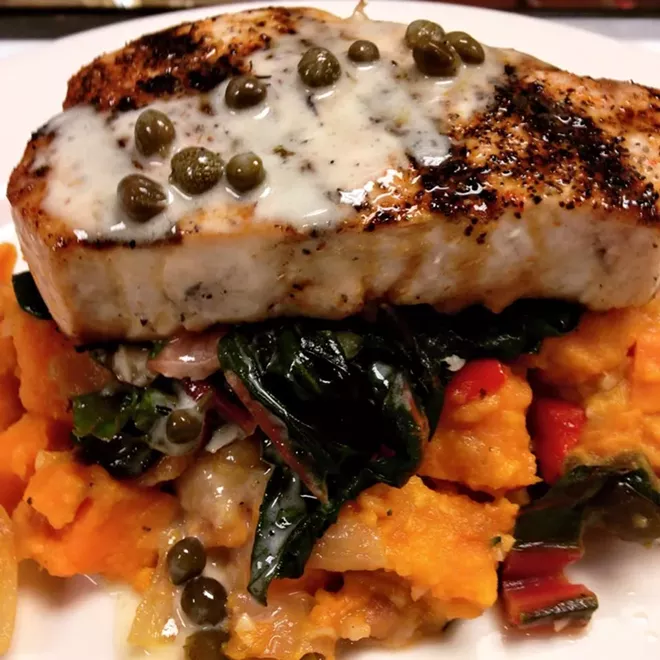 photo via NOVA on Facebook
Possible NOVA menu item: Pine Island black grouper with sweet potato bacon hash, wilted Tuscan kale, lobster butter
The long-awaited
NOVA Restaurant
in Ivanhoe Village will open next month in the space that once housed Brian's Restaurant and Elliot's Public House.
Mark Stillman, of Atlanta-based 101 Concepts, the restaurant group behind a few well-received restos in the A-T-L including Cibo e Beve, Food 101 and Meehan's Public House, is the brains behind NOVA (short for "North Orange" and "Virginia"). Valintinus Domingo, a managing partner in the venture, will serve as NOVA's executive chef. Domingo was formerly executive chef of Meehan's Public House and, prior to that, was executive chef at Coastal Kitchen and Raw Bar in St. Simons Island, Georgia.
photo via NOVA on Instagram
@nova_orlando: We will be featuring a bricked in "show" kitchen so everyone can watch the chefs at work and smell the glorious flavors melding together @nova_orlando #construction #buildout
The menu promises "regional American fare" but will incorporate Domingo's Filipino roots along with influences from Charleston, SC, Savannah, GA, and Portland, OR — stops he made during his travels in the military. "The entire menu is about 60 percent seafood — lots of bold flavors, with sauces used as garnishes as opposed to being smothered on the plate."
Naturally, local and sustainable ingredients from such purveyors as Lake Meadow Naturals, Lombardi's Seafood, Local Roots, Olde Hearth Bread Company and Dakin Dairy Farms will comprise the dishes fashioned in NOVA's scratch kitchen.
Here's a sampling of NOVA's planned dishes:
Appetizers
- Ahi tuna ceviche: mango avocado relish, English cucumber, sriracha-citrus ponzu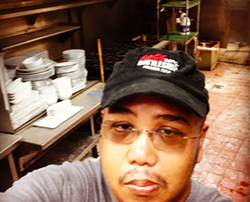 photo via NOVA on Instagram
@nova_orlando: Chef Val getting ready to inventory kitchen equipment #novaorlando #chefslife #buildout #construction #ivanhood #whatfoodnetworkdoesntshowyou @chefvaldomingo
- Florida wagyu shortrib tacos: jicama cucumber slaw, heirloom cherry tomato pico, avocado
Salad
-Local Tuscan kale salad: tricolor baby carrots/heirloom cherry tomatoes, toasted almonds, lemon basil vinaigrette, shaved asiago
Entrees
- House-made lobster and crab ravioli: creamed organic spinach and tomato, sherry cream
- Pine Island black grouper: sweet potato bacon hash, wilted Tuscan kale, lobster butter
- Duck fat fried chicken: Lake Meadow Naturals chicken, smoked gouda mac and cheese, braised collards
- Florida wagyu NY strip: blue cheese herb compound butter, grilled sea salt asparagus, Peruvian potato mash
NOVA's target opening is mid-November, but you can follow the restaurant's progress on
Facebook
or on
Instagram
, where it's clear that all hands are on deck, pitching in to make this space great.