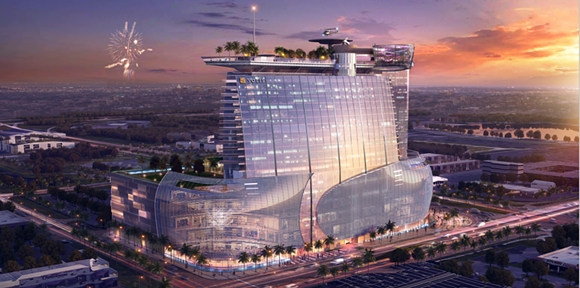 Today, the city of Orlando's Municipal Planning Board approved
amended plans
for a developer to construct a massive mall, hotel and helipad at the corner of International Drive and Kirkman Road. The complex, which would be known as iSquare, would be right around the corner from the Fun Spot and International Outlets, and it would consist of a 23-story, 539-room hotel, 434,000 square feet of retail mall space and a helipad. The proposed project, according to the planning board documents, will transform a corner that currently looks like this:
Orlando Municipal Planning Board
Into this:
Orlando Municipal Planning Board
According to the planning board's meeting minutes, notices were sent to all neighbors within 400 feet of the proposed hotel site, and nobody objected or raised questions. The minutes also indicate that the construction will be energy efficient, and that the developers plan to seek LEED certification for the project. On Nov. 16, the minutes of the meeting will go before the City Council for approval. According to iSquare's website, the hotel is scheduled to open in Summer 2017. More photos from iSquare below.