The stars aligned this month when we were able to get local indie rockers Odessos into North Avenue Studios for a session just as they release their debut EP,
Ursus Arctos Actos
. Now we've got fresh new videos to offer you a taste before the band heads to Will's Pub for their EP release party (Nov. 8).
The impassioned 4-piece tugs on the melodic ear of singer-guitarist Richard Simunac and the lyrical imagery of singer-guitarist Philip Temple, with their focused sound resting on the backbone created by heavy groovers Daniel Lunde (drums) and Brian Johnson (bass) to create energetic tunes that subtly pull from far-flung, curious influences like Snarky Puppy, Mae and the soundtrack to
Spirited Away
.
The band started as a two-piece called White Chocolate in 2012 but evolved to the current lineup in 2014 when they took on the moniker Odessos. Watch Odessos perform two songs live, "Move" (below) and "Star Ride," (above), and read on to learn more about the band.
Orlando Weekly:
What are you listening to/loving most in music right now?
Phil Temple: Circa Survive, Dave Brubeck and actually a lot of different types of dubstep.
Richard Simunac: For the past 6 months or so, I've been on an old jazz standard trip, listening to guys like Frank Sinatra, Mel Torme, Tony Bennett, Louis Prima, etc. I'm kind of obsessed haha.
Brian Johnson: My top three favorite artists right meow are Snarky Puppy, Tricot and Mag.lo.
Daniel Lunde: I like to make loud, ear-shattering noises but also like to make soft and delicate ones. I am listening to some really crazy sounds at the moment. Some of which include, (you guessed it) Snarky Puppy and the RH Factor, Animals As Leaders, the Contortionist, the Aristocrats, Chon, Flying Lotus, C-Dub Whitfield, Jeff Lorber, Pat Metheny, Robert Glasper, Thundercat, Brand X, Alex Argento and the Yellow Jackets.
Who is the best band you've ever seen live?
Lunde: I have seen Snarky Puppy live. Twice. Snarky Puppy. Snarky Puppy. Snarky. Puppy.
Johnson: Hmmmmm, it depends on what you mean by "best," I suppose, because there are a few different variables to take into consideration like the best noise rock band I've ever seen live is Melt Banana. What made their show so great was their enormous stage presence and sound, and, of course, the audience played their part as well. The audience is also part of the act. Ummmm, but the way I judge the quality of a noise rock performance differs greatly from how one might judge a good jazz performance.
Simunac: That's a tough one. The best local band I've seen live would have to be Velocirapture; they always blow my mind when I see them - they're beyond technically proficient as individuals and extremely tight as a group. The best national performance I've seen was probably Anberlin's last concert at House of Blues. There were so many feels going on in that room when they played "Fin" for the last time ever.
Temple: Velocirapture (musicality)/All Gone Grey (enthusiasm)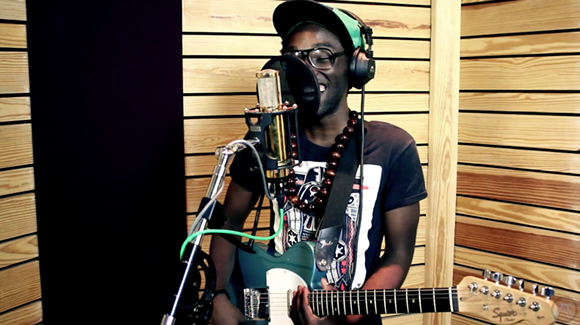 Photo courtesy of North Avenue Studios
Odessos at North Avenue Studios
What do you think is important in a live performance?
Temple: Jumping, sweating, moving. Polish the music enough that you can produce a decent sound while making a spectacle of performance. Make a show a show.
Simunac: The energy. You have to be able to communicate your soul to the audience, both through the music and your body. Any musician can get on stage and play well - but to engage the crowd and make them dance with you is another thing entirely, and to me, it's the best feeling in the world.
Johnson: Enjoying the music and having fun and being yourself. NOT trying to act cool and NOT looking bored.
Lunde: A live performance should be the most energetic, physical and musically filled experience for both the audience and the performers.
Which band would you most want to tour with, past or present?
Simunac: Probably Mae, just because they were my favorite band growing up and I've actually grown to be friends with Dave, their lead singer. I would love to hang out with those guys on tour and share the stage with them - it's been a dream of mine ever since I started playing guitar.
Johnson: If we could get on it with Sufjan Stevens or Vampire Weekend, that would be nice.
Temple: Stromae/Little Tybee
Daniel: Chon. I'd like to tour with Chon. I'd also like to vs. Mario on
Super Smash
.
Photo courtesy of North Avenue Studios
Odessos at North Avenue Studios
Do you have any gear that helps you achieve your sound?
Temple: I use poop gear. An old busted Marshall with a Cube as the amp, because it has effects. If not, I'm borrowing a friend's Fender amp. I'm more interested in writing music than the gear behind the sound. That is, until it comes to recording.
Simunac: I use a Vox AC15C1, with a couple of pedals and a custom partscaster I built. I've been working on my tone for a couple of years now, and I think I'm finally happy (for the most part) with what I have. I use a crybaby wah, OCD, carbon copy delay, cathedral reverb and xtotic EP booster. My partscaster has a maple on maple neck and mahogany body, as well as an HSH pickup layout with an on/on switch for HH/SSS. I like having as versatile a tone as possible, and my current rig lets me play in almost any style I want. I love it.
Johnson: Not really. I play a six-string bass by Brice and I use an SWR Super Readhead bass amp with blown out speakers, not on purpose, though, just whatever, you know?
Lunde: I am super blessed and thankful for the gear I have. My stage kit is a metallic blue Sonor Force 3007 Special Edition Maple 5 piece. I have a mix between Sabian AAX and HHX cymbals which give me the light and dark qualities I need from these metal pizzas for my sound.
What's the best story you've got about a piece of gear you play with?
Simunac: Probably my partscaster. I built it by myself (not easy considering it was my first ever build and I was going for a complicated electronics setup), and I had a custom install done at Anonymous Guitars down in Sunrise, Fla. Daniel Mogg does this thing where he takes a wireless transmitter - like the packs you see on guitar straps at shows - and puts the electronics from it inside the body of the guitar. So basically I push a button on my guitar and start playing … I don't have to actually plug into anything. My receiver is plugged into my pedal board. People must think I play to a click track or something haha. It's so beautiful. Apparently I have one of the only ones like it in the world too, which is really cool.
Temple: I don't have a story but I've named and my guitars and my bass.
Lunde: My kick and snare scare away the demons. My cymbals summon the angels.
Explain the meaning behind one of your songs.
Simunac: A lot of the songs are pretty self explanatory, but I love the idea behind "From Barrel to Blame." A song about a shooting, but from the perspective of the bullet. I originally came up with the line "bullets don't have names," brought it to Phil and asked him to write a song about it. He brought the entire song with him next week to practice; it was insane.
Lunde: "Move" basically means when played: forget about anything that is on your mind and just do what the song tells you to do.
Temple: "Touch" is about Eggnog.
Which comes first: the lyrics or the music?
Temple: The idea. Sometimes it's a mumbled melody (music), other times a word sticks out to me like, "milk" and I try to write around that, which could start with music or lyrics. So it varies.
Simunac: For me, it's the music. I don't write a lot of the lyrics for Odessos, but I'll bring a riff or lyric idea to the guys and we'll work on it together.
Johnson: The music.
Lunde: I believe the music should be first.
What label do you think your music fits best on?
Temple: I don't really know about labels.
Simunac: That's hard, considering the diversity of our sound. Maybe Spartan Records.
What's your favorite city to play in?
Temple: Daytona. Though we don't have a lot of places to play there, the crowds move with us when we're jumping, sweating moving.
Simunac: Currently Orlando. There are a lot of great venues and supportive fans out here.
Johnson: Orlando.
Lunde: Daytona Beach, Florida.
What's your favorite Orlando venue to perform in?
Simunac: Right now, I'd probably say Will's Pub. We've had a lot of fun there so far. However, I'd love to play at the House of Blues soon.
Johnson: Backbooth.
Temple: Will's Pub
Photo courtesy of North Avenue Studios
Odessos at North Avenue Studios
What's the first album you remember really treasuring?
Simunac: Blink-182's self-titled album really stuck with me. It's the best example of less is more, and all of the songs are so unique on that record. It's a classic.
Temple: Edison Glass' entire discography.
Johnson:
groundUP
by Snarky Puppy changed my life.
Lunde: Snarky Puppy's
GroundUP
. Brian started it all.
What album have you listened to more than any other album? What keeps you coming back?
Temple: Punch Brothers -
Who's Feeling Young Now?
It is a perfect balance of complex and interesting and not so complex that it becomes a showcase of how fast or how fancy they can play. And at times, it's even skillfully playful, which I would like to learn how to do more like them.
Simunac: Probably
The Everglow
by Mae. The imagery of the music and the depth of the layering throughout that record is just mind boggling. Nostalgia definitely plays a part in it as well.
Johnson: I really can't say for sure, but it's probably between
GroundUP
by Snarky Puppy and the soundtrack for
Spirited Away
by Joe Hisaishi.
Lunde:
Grow
by Chon.
What the fuck is wrong with the music industry?
Simunac: A lot, but it's hard to explain in a couple of sentences. With the advent of the Internet and cheap recording gear, everyone can put their stuff out there - which is great. The main issue is most of what the labels and radio stations are pushing out there is reactive (based on what's selling) rather than proactive (new and inventive music). The music industry today is both amazing and really frustrating.
Johnson: Hmmmm, I guess the same thing that goes for any other industry is that oftentimes, you will find people in positions of power who are quite selfish. It's hard to say really, though I am quite interested in the way the music industry is evolving with technology. It's neat. Everything is neat.
Temple: I think with the power of the Internet, music and its sales and its popularity will become completely up to the artist. So I can't really answer that question because I'm looking forward to what it is turning into.
Lunde: Simple melodies.
Photo courtesy of North Avenue Studios
Odessos at North Avenue Studios
What local Orlando band deserves more attention?
Temple:
Boxing at the Zoo
Siimunac: There are so many.
Europa
is definitely up there though; those guys put a lot of work into what they do and it shows.
Johnson: Shout out to my boys in Europa.
Lunde: Europa.
What upcoming Orlando shows are you looking forward to?
Temple: I'm looking forward to our show
(Nov. 8, Will's Pub)
; I hope that's not too vain. The bands that play with us usually are good, so hearing and seeing people who are where we are in the pursuit of the professional musician is always fun to witness. It reminds me that we aren't completely crazy for chasing this dream, and sometimes it reminds me just how much great music/competition is out there. Shows are both a reality check and an encouragement.
Simunac: Our EP show. Everyone in this scene is always super supportive of each other, and shows always feel like coming home to me. I can't wait.
Johnson: Pshh, Odessos EP release show (yeah yeah I know, I'm vain).
Lunde: Definitely Will's Pub on Nov. 8.
What's the best live music video you've seen?
Temple: Everything Snarky Puppy.
Johnson: Anything by Snarky Puppy.
Simunac: There are so many, but this is the first one to pop in my mind. Snarky Puppy is amazing by themselves, but with Lalah Hathaway's insane vocals, this live session turns into something out of this world.