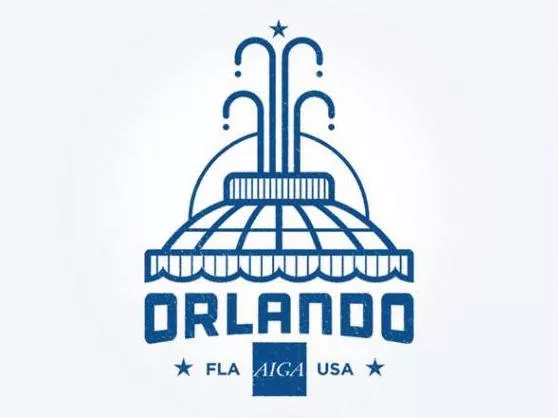 Victor Davila's illustration of one of Orlando's iconic symbols is still causing headaches for Orlando mayoral candidate Paul Paulson, who used the design without Davila's permission for his campaign materials.
When we first
reported
on it, Davila says his friend showed him a Paulson ad in the Orlando Weekly with the Lake Eola fountain graphic. The local designer contacted people from Paulson's campaign, who told him they found the image on Google and liked it enough to put it on A LOT of promotional materials.
Davila offered the campaign a post usage license, and when we reached Paulson, he said his campaign had gotten permission and a license.
Three days later, Davila says the two couldn't come to an agreement, and contrary to what Paulson told us, the campaign doesn't have a license to use the image. In an email, the artist says he was ignored when he wouldn't take the campaign's first offer.
"However, after reaching Mr. Paulson directly on the phone for a very short conversation last night, he told me that since I never registered the image and put it on the internet (right now it's on my website, Behance, and Dribbble) that it was 'public domain' and he could use it," Davila writes. "He then hung up on me."
Before that talk, Davila had asked people on social media not to vilify Paulson and said that he was confident they could come to an agreement. On social media, Paulson supporters accused Davila of wanting to extort the mayoral candidate for money.
"It is this complete disregard of an author's original work that has left me most frustrated and disappointed, particularly in someone who is in a position to potentially lead Orlando," Davila writes. "As a businessman and community leader, he should know that a person's work has value. And while I'm no lawyer, it's my understanding that copyright protection exists from the moment the work is created. All I'm hoping for is a fair resolution to this matter. I created something that he feels is worth enough to use on his campaign, but not worth enough to pay for it. So, right now I'm exploring further legal options."
We called Mike Shirley, Paulson's campaign manager, for an official comment on situation, and he said he would get back to us. We'll post his comments here when we hear from him.