THIS LITTLE UNDERGROUND


Ashley Belanger
Yarn/Wire at the Plaza Live
For something that started out without a master plan, Chris Belt's
Accidental Music Festival
has sprouted some impressive legs. Now in its fifth year, the Orlando event has become a defining player in the area's
contemporary and avant-garde music scene
by daringly championing the arcane world of new music beyond the carousel of pop and rock.
To launch the season, AMF brought in heavyweight New York ensemble
Yarn/Wire
(Oct. 29, Plaza Live) to perform a program of current works by Steve Reich ("Quartet," a composition written for their unique arrangement), David Bird ("Mediums"), Sam Pluta ("Seven") and AMF alumnus Joseph DiPonio ("Chora"). This quartet isn't about being good young practitioners of an old form. They're part of the
new classical vanguard,
true artists who are taking their considerable formal skills and pushing them beyond the ivory box.
Ashley Belanger
Yarn/Wire at the Plaza Live
The performance was an evocative one of enveloping, magnetic atmosphere. Even when the rhythms were unconventional and elusive as in the David Bird piece, their extraordinary ensemble play was still unmistakable.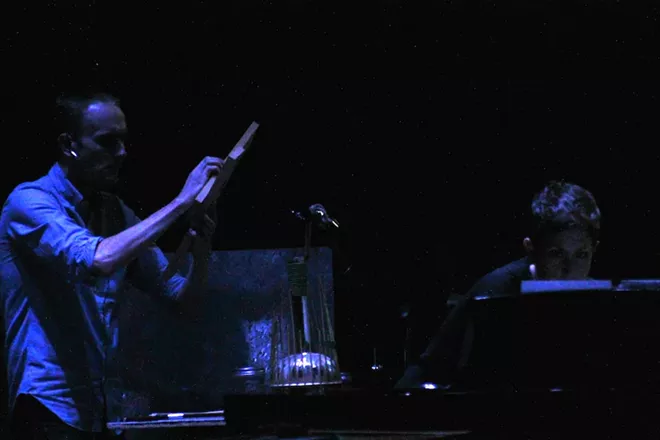 Ashley Belanger
Yarn/Wire at the Plaza Live
I've seen many cool and unusual arrangements but never an ensemble of
two percussionists and two pianists.
Really, though, they were much more than that. For starters, their interesting rig is an extensive and dynamic one ranging from classical instruments to an array of devices suited for a sound effects studio. Even with the traditional instruments, their use and manipulation of them was often
experimental.
And for "Mediums," they added further dimension by incorporating video and recordings of ambient sounds both urban and natural.
When you watch a piece whose climax is built by three of them huddling over a single piano tugging at its entrails – as if
disemboweling a beast,
the beast of orthodoxy perhaps – you know immediately, unequivocally that this ain't your granddaddy's chamber music. This is
truly new music
that's on the frontier of expression.
Ashley Belanger
Yarn/Wire at the Plaza Live
But there was something else exceptional about the show. Unlike what some might expect from a high-art concert, this was neither stiff nor exclusive. The players provided lots of foreword and background of the featured material and even their methods, some of which were pretty inventive like using
toy bouncy balls
as mallet heads and
fishing line
tied to the piano strings. In short, they don't assume you're already in the know. They gladly fill you in to maximize what was designed to be a deep experience.
It was another reminder that, thanks to enlightened and enterprising groups like the Accidental Music Festival and the Civic Minded 5, Orlando's avant-garde music scene is
sexier
than you probably realize.
Ashley Belanger
Yarn/Wire at the Plaza Live
////////////////////////////////////////////////////////////////////////////////////////////
This Little Underground
is Orlando Weekly's music column providing perspective, live reviews and news on the city's music scene.

Follow Bao on Twitter (@baolehuu)
Email Bao: baolehuu@orlandoweekly.com