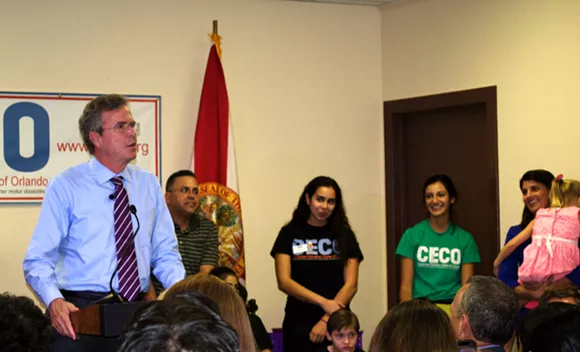 In the midst of dwindling poll numbers, presidential hopeful and former Florida Gov. Jeb(!) Bush brought his exclamation points and a new campaign tour to Winter Park Monday.
Bush stopped at the Conductive Education Center of Orlando, a school for children with special needs, and two other locations in Florida as part of his "Jeb Can Fix It" tour. The tour aims to reboot his campaign and reassure donors of his presidential aspirations after "another underwhelming debate performance last week and persistently low poll numbers," the
New York Times
reports.
The good news for Bush is that #JebCanFixIt was
trending
on Twitter Monday. The bad news is the tour name was trending after people hijacked it and started comparing the candidate to a
plumber
.
Back in our corner of the world, U.S. Rep. John Mica, R-Winter Park, Florida Rep. Richard Corcoran, R-Land O'Lakes, and former Lieutenant Governor Toni Jennings told a small classroom packed with supporters why they believe Bush is the best choice.
"It's the empty wagon that rattles the loudest. Lordy do we have some empty wagons out there" said Jennings, referring to the other Republican presidential candidates."It is the full wagon that is quiet. It is the full wagon that is full of ideas, policies, and accomplishments that moves forward. That is what we have with Jeb Bush."
Bush says his work with the Florida Legislature to fund programs to help people with disabilities has continued to make Florida's programs significantly better than many states.
"Everybody is an asset in society," Bush says. "Everybody can make a contribution...We need to tear down barriers so that every person can fulfill their destiny and reach their full potential."