The Orlando Police Department arrested an apartment security guard on charges of first-degree murder, sexual battery and burglary in the case of Sasha Samsudean, the 27-year-old woman who was found dead inside her Orlando apartment.
Stephen Duxbury, 33, is currently in the Volusia County jail without bond. In an arrest affidavit, police say the Port Orange man strangled Samsudean to death at her Uptown Place apartment on Oct. 17. Samsudean, who grew up in the Orlando area, worked for Pearson, an education company that provides services to teachers and students, the
Orlando Sentinel
reports.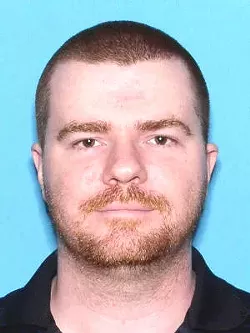 Photo of Stephen Duxbury via Orlando Police Department
Earlier, Samsudean was hanging out with her friends at the Attic Bar when around 12:30 a.m., she decided to go home. Her friends never heard from her again.
After failing to get into contact with her via text and social media, her friends went to her apartment and knocked on the door, but she did not answer, so they called police. Inside, officers found Samsudean dead, wrapped in a comforter on her bed, with a condom wrapper on the floor. Her pants, underwear and purse were missing, and the remaining clothes on her body were ripped. Someone had poured a bleach mixture, possibly a cleaning product, on her body and the bed in what looked like an attempt to "destroy any forensic evidence," the affidavit says.
When police interviewed Duxbury, he told them he helped Samsudean that night because she couldn't remember the key code to get into her apartment and went with her to the garage to see if her keys were in her car. Samsudean told him she remembered the key code, so they went back to her apartment, but she still wasn't able to get in. Duxbury said later he saw her walking with another man near her apartment. When asked if he went into her apartment, Duxbury told investigators he wasn't supposed to go into the apartments.
Surveillance video showed Samsudean and Duxbury walking down a stairwell to the garage at 2:25 a.m., laughing. They returned back up the stairwell around 2:27 a.m., with Samsudean bumping into the walls. Later, surveillance cameras captured Duxbury leaving the building at 6:36 a.m. with two trash bags. Although his shift was supposed to end at 6 a.m., he didn't leave the building until 6:39 a.m.
A little less than a week later, police conducted a search warrant on Duxbury's home and found shoes that matched a shoe print discovered inside Samsudean's apartment. Police also found a thumbprint on Samsudean's toilet that matched Duxbury's right thumb.
"The fresh injuries to his forearms appear to be a bite mark and defensive wounds possibly caused by Ms. Samsudean in an attempt to fight off her attacker and save her own life," the affidavit says. "Stephen Duxbury took advantage of Sasha Samsudean when she was in a most vulnerable state instead of providing security for her against a potential would-be attacker. Instead of getting her safely into her apartment as he was employed to do, he used her impairment and his position to his advantage in order to enter her apartment, sexually batter her and then strangled her."
Duxbury, who worked for Vital Security and Investigations since April, had been a security guard at the apartment complex for five months. His
LinkedIn page
says he served in the U.S. Air Force from 2008 to 2014.