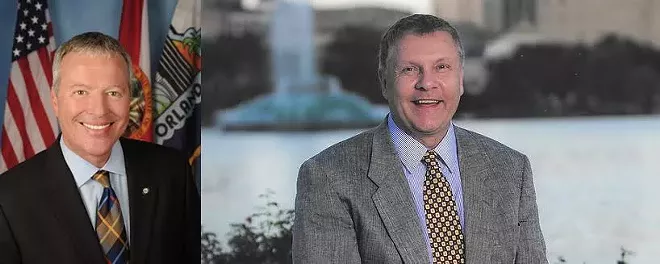 Around Orlando today, people seemed to be voting in slow but steady numbers, but some were confused as to why where they vote for city elections was different from county and state elections, says Jean Siegfried, a poll clerk for city precinct 4401 at the First Unitarian Church of Orlando on Robinson Street.
The Orange County Supervisor of Elections office gave Siegfried's polling location 3,600 ballots, but by 4:30 p.m., only 400 ballots were cast at that location. This number does not include people in the precinct who voted via absentee ballot or voted early.
Herbert Miller went to another polling locations before someone told him he was supposed to vote at the First Unitarian Church of Orlando.
"This was a pain in the ass," the self-declared Barry Goldwater Republican says. "I happened to see the voting sign, otherwise I would have kept going to the place down the street. I almost gave up on voting."
Things also went smoothly at city precinct 5201 at the John H. Jackson Community Center on Carter Street, says poll clerk Shirley Bradley, who attributed that to the short ballot in this election. Harry Bryant says the experience was positive, and that he's OK with the direction the city is currently heading.
"I think with this election Orlando is at a turning point," he says. "We need to get past the status quo and make more of an effort to be diverse and promote inclusion for everybody, which is going to take some effort."
Polls closed at 7 p.m., and as of 7:10, Supervisor of Elections Bill Cowles' office reported that only 14.65 percent of registered voters cast ballots in the election – 22,339 out of 152,505 eligible voters.
Cowles' office also shows that after counting
absentee and early voting ballots,
the incumbents are all leading in their respective races.