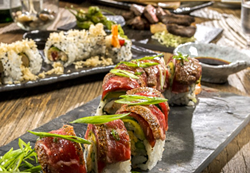 Photo courtesy Dragonfly Robata Grill & Sushi
If you've sat in Kabooki Sushi and been totally mesmerized by the looped film
Jiro Dreams of Sushi
, starring one of Japan's rolled-rice godfathers, this event is probably for you. Dragonfly Robata Grill & Sushi in Orlando is hosting a sushi workshop for those who want to break the arcane formula behind the combination of fish, rice and accoutrements.
The "Behind the Knife" event led by chef de cuisine David Song runs from 11:30 to 1:30 p.m. on Saturday, Nov. 14, so you still have a solid week to snatch up those $60 tickets. You'll learn sushi-making techniques from slicing fish to making the prefect sticky rice (a technique that usually takes straight-up sushi chefs years to master – you'll learn it in about 30 minutes), to making three styles of sushi – classic sushi, temaki and hosomaki.
But don't worry - you're not paying $60 (plux tax and gratuity) just to make your own food. There will be aperitifs, passed hors d'oeuvres, samples from the robata grill and more to fill your belly while you're slicing that otoro. By the end of it all, you'll be confident enough behind the counter to include a sushi station at your holiday bash this year. OK, big promise, but you'll at least have some new knife skillz to flash.
Call
Dragonfly
to reserve your spot.