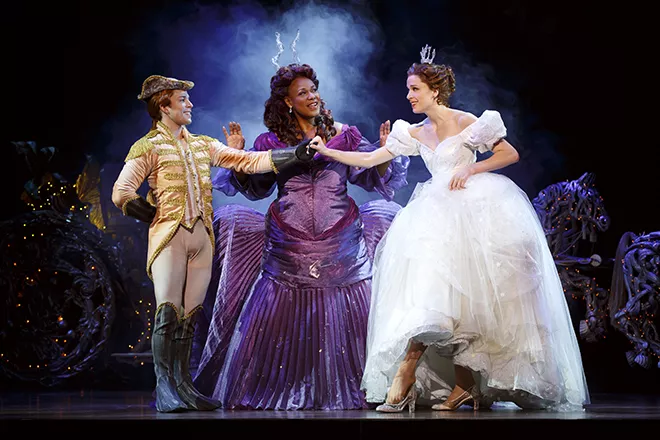 Orlando is the princess capital of the world, so it's no wonder that Cinderella's opening night at the Dr. Phillips Center for the Performing Arts drew a capacity crowd in a city built around her castle. But it's a little surprising to see the audience embrace a musical made not in Disney's image, but Rodgers & Hammerstein.
The legendary composers created their take on the familiar fairy tale for television in 1957 (seven years after the animated classic debuted) hewing more closely to French Charles Perrault plot than the gory German Grimm Brothers version that inspired
Into the Woods
. That means most of the elements from Disney's film are present – pumpkin coaches, glass slippers, and midnight curfews – but tweaked enough to avoid copyright infringement: there are dancing raccoons and foxes but no talking mice, and instead of "Bibbidi-Bobbidi-Boo," the Fairy Godmother (Liz McCartney) says "Fiddle-dee-dee."
The score, featuring standout tunes "In My Own Little Corner" and "Impossible," is pleasantly old-fashioned (even if half of it sounds like outtakes from
The Sound of Music
or
South Pacific
), and conductor Valerie Gebert's 16-strong pit orchestra sounded lush without looming over the lyrics. Though the songs are a half-century old, the book was rewritten for
Cinderella
's 2013 Broadway bow by Douglas Carter Beane, best known for campy scripts like
Xanadu
and
To Wong Foo, Thanks for Everything! Julie Newmar
. Beane's revision ups the show's social relevance and snark, adding anachronistic winks to the audience while giving the less-wicked stepsister (Kimberly Faure) a crusading bookworm boyfriend (David Andino; understudy Thad Turner Wilson on opening night) straight out of
Les Miz
by way of Monty Python's Constitutional Peasant.
The resulting mix of retro romanticism and modern mockery goes down easily but doesn't fully satisfy, ending up neither as enchanting nor as funny as it wants to be. Director Mark Brokaw keeps things moving at a comfortable clip, slowing only in the obviously padded second act, and leads Kaitlyn Davidson and Andy Huntington Jones (both veterans of the Broadway cast) are exceedingly likable in the leading roles; Davidson's Ella is sweet and spirited without being saccharine, and Huntington's Prince Topher is appealingly self-aware of his unearned privilege. Blair Ross' Madame makes an iconic antagonist with her glamorous Gorgon glare, and her gluttonous daughter (Aymee Garcia) makes a marvelous foil; shame we're denied the catharsis of seeing them get their comeuppance in the end.
Cinderella
delivers moments of genuine theatrical magic, like the entrance of designer Anna Louizos' whimsical wicker coach. But at other times the spell is broken; from where I sat, Ella's ballgown transformations looked awkwardly sloppy, as did many of high-flying steps in Josh Rhodes' courtly choreography. And though the costumes won William Ivey Long a Tony, I thought outfits in the
Twice Charmed
show on the Disney Cruise looked more elaborate and imaginative.
As theatrical comfort food,
Rodgers & Hammerstein's Cinderella
is ideal family fare: There isn't much there there, but even if the flavors aren't too fresh, there's nothing anyone should have difficulty digesting.