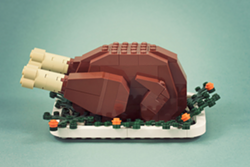 Photo by Chris McVeigh via Flickr Creative Commons
Do yourself a favor this Thanksgiving if you're hosting the main meal: Buy the Main Event.
Honestly, roasting a turkey is not that biggadeal, but the stress and time you'll spend basting and checking and turning and tenting and all that jive is sometimes worth spending a little scratch so you can
focus on more important priorities. Like mashed potatoes.
Here are four local spots that are taking orders now for Thanksgiving turkeys. Mind you, you'll have to make time on Wednesday to pick up your order, and of course your cooked bird will come with reheating instructions, unless you want to go ... well ... cold turkey. (Ha.)
A word of advice before ordering your bird (or buying one you intend to cook, for that matter): Count on about 1.5 pounds per person for pre-cooked weight. This will account for what people will eat at the table, pick at after dessert, and pile on sandwiches later in the week. So if you have eight people on their way for dinner, get yourself a 12-pound turkey.
1.
Bubbalou's Bodacious BBQ
(Winter Park location): $49.99
BBBBQ is taking orders for turkeys that are between 16-20 pounds (pre-cooked weight). If you want a bird on the bigger end of that spectrum, let them know when you order.
2.
4 Rivers Smokehouse
(all locations): $74.99
Come in Nov. 13 and 14 for a free sample of their smoked turkey before ordering on or before Nov. 20. All birds are around 16 pounds, which feeds between 12 and 14 people.
3.
Swine & Sons Provisions
: $9 per pound
You have a couple of options here: You can order a brined-and-bagged bird, ready for the oven, for $7 per pound, which comes out to $84 for a 12-pound turkey. Or go ahead and order their smoked turkey for $9 per pound, which comes out to $108. Choose from a 12- to 14-pound turkey or a 16- to 18-pound turkey.
4.
Uncle Kenny's BBQ
(Clermont): $75
If you're out west, order from Uncle Kenny's award-winning smoke shop, where a 16- to 18-pound turkey will cost you, but will be oh-so-good, and one last thing you'll have taking up oven space. Pick up an order of pulled-pork nachos to nosh on while you wait for your order to be up.