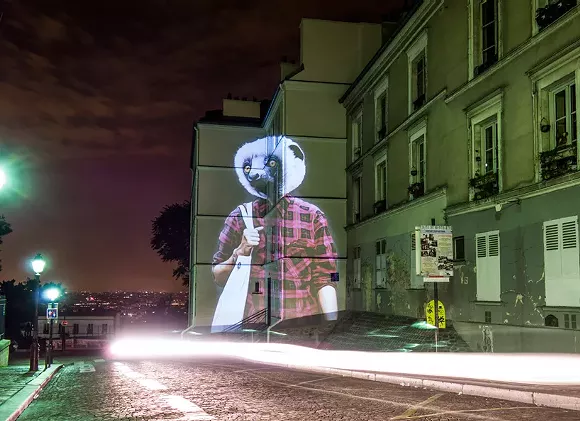 Julien Nonnon
"Lemur of Montmartre"
Have you seen the History Channel series
Life After People
? It shows an Earth minus humankind, in which other species are left to inhabit the ruins of the world we created, and – through the magic of CGI – there are many scenes in which, say, flocks of housecats prowl city streets or herds of bison bumble through suburban housing developments. The show's juxtaposition of wildlife with domestic life elicits a thrill teetering between charming and eerie; Parisian artist Julien Nonnon's
Urban Safari
series ­– building-size projections of nattily attired lemurs, wolves and foxes, looking down upon deserted urban streets – possesses that same jolt. His work – as well as that of six other international artists working in themes of human interactions with the natural world – are on display at Snap Space through January 2016. Stop by on opening night to meet the artists, quaff craft cocktails by the Courtesy Bar and move to tunes by DJ Nigel. Keep an eye on Snap's social media in the days following the opening, as they announce locations for projections of Nonnon's
Urban Safari
throughout Orlando.
Opening 7-10 p.m. Friday, Nov. 20 | exhibition through Jan. 30, 2016 | Snap Space, 1013 E. Colonial Drive |
snaporlando.com
| free; RSVP at Eventbrite