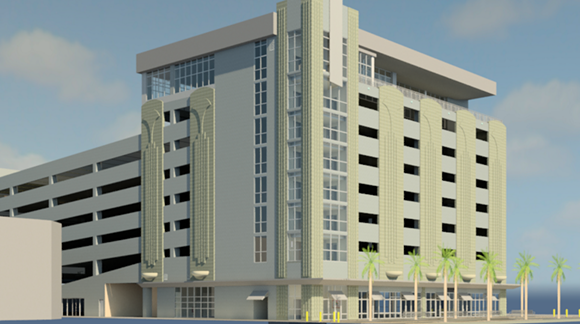 Photo via Helman Hurley Charvat Peacock/Architects Inc.
With the addition of a new $14 million garage at Mango's Tropical Cafe, I-Drive's Skyplex is one step closer to actually happening.
Over 600 spaces will be in the new Hollywood Plaza garage that will feature ground-level retail and a 10,257 sq. ft. rooftop. The garage will also include a glass-enclosed restaurant, an elevated walkway connecting the garage to the Mango's complex next door, art deco design with large design panels, glass elevators and tall palm trees lining it.
To help alleviated traffic from the International Drive/Sand Lake Road intersection, the new garage will have its main entrance off of Frontage Road to the west of I-Drive. The road will essentially circle around the pre-existing businesses, including the Golden Corral, before emptying directly into the garage. The surface parking out front is mostly being replaced with a sidewalk café, valet service and other non-traditional parking options (which may include an exotic car rental kiosk).
Mango's is finalizing construction inspections now and is expected to open before the end of the year. The garage will open much later. In the meantime, other parking options, including parking across Sand Lake Road at the Skyplex lot, is likely. The Hollywood Garage is partly to thank for the larger Skyplex development.
The Skyplex land, the Fun 'n Wheels property, was originally purchased with the intention of it being used as parking for Mango's. When the Walgreens next door to Mango's was put on the market, Wallack Holdings, the parent company behind Mango's and Skyplex, quickly bought it. The new garage meant the former parking area across Sand Lake Road would be available for other development. It was at that time that Bill Kitchen of US Thrill Rides contacted Wallack Holdings about his recent
Polercoaster invention.
That caused what was originally intended for a surface parking lot to now be the now proposed Skyplex entertainment complex that will feature the world's tallest roller coaster, world's tallest drop tower ride and
a surf park
among other features.
Mango's will open by the end of the year, the Hollywood Plaza garage is expected to open by the end of next year and Skyplex,
if approved by Orange County on Dec. 1
, should open in the Spring of 2018.