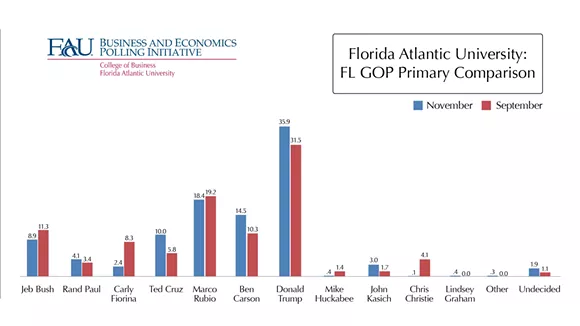 Today, Florida Atlantic University's Business and Economics Polling Initiative released a
GOP primary comparison poll
that showed that Florida voters favor Donald Trump as the frontrunner for the party's presidential candidate. Not just by a little, either. The poll shows Trump is favored by nearly 36 percent of voters polled, compared to the second runner up Marco Rubio, who's the pick of just 18.4 percent of potential voters. Ben Carson comes in third with 14.5 percent, and Jeb Bush (Jeb!) has dropped to fourth place, with just 8.9 percent.
Trump by the way, just announced his pick for running mate should he win the primary:
Ted Cruz.
Why? Because Trump likes a yes man, and Cruz is
"now agreeing with me 100 percent."
Just imagine for a moment, what the nation would look like with Trump-Cruz (Truz? Crump?) at the help.
On the Democratic side, there are no surprises. FAU's poll shows Hillary Clinton leading her field with 65 percent, while Bernie Sanders and Martin O'Malley falling way behind.