However, juggling a bunch of different timelines for multiple dishes can be a challenge, especially if your usual repertoire is "Hey, we're having pasta for dinner again." So here's a list of simple, foolproof sides – a little more creative than the plain old mashed potato, but still relatively quick and not fussy to prepare. One is no-cook; the rest are stovetop-only, since the turkey gets oven priority. We even included our patented "super-lazy" shortcuts.
Dramatically Seared Green Beans
(photo above)
A
Mollie Katzen classic
, in her own words. Do this last, while the turkey is resting.
2 tablespoons canola oil or peanut oil

1 pound whole green beans, trimmed

1 tablespoon minced or crushed garlic

red pepper flakes

kosher salt

Place a large, deep skillet over medium heat. After about two minutes, add the oil, and swirl to coat the pan.
Turn the heat to high, and wait another 30 seconds or so, then add the green beans and a big pinch of salt.
Cook over high heat, shaking the pan and/or using tongs to turn and move the beans so they cook quickly and evenly.
After about three minutes, take a taste test and see if the beans are done to your liking. They should be relatively crunchy, but you get to decide. If you like them cooked a little more, keep going until they're your kind of tender.
Sprinkle in the garlic and some red pepper flakes, and cook for just a minute longer. Serve hot, warm, or at room temperature.
Sautéed Green Apples and Leeks
The easiest dish known to mankind. Adapted from an ancient Martha Stewart recipe, though "recipe" is a pretty hifalutin word for something this simple.
2 large leeks, white part only *

2 Granny Smith apples, quartered and sliced

2 teaspoons salted butter

Split leeks in half the long way and cut off the root end. Wash well and dry with paper towels. (Wrap up the green parts in a paper towel, stick them in a baggie or plastic container and reserve for later use.) Cut leeks into thin strips (about 2 inches long).
Melt a teaspoon of butter in a sauté pan over medium heat. Add the leeks and cook until soft (maybe three minutes). Remove from pan, set aside, melt the remaining teaspoon of butter, and add the apple slices. Turn heat up to high and cook until apples are lightly browned, about another three minutes. Return the leeks to the pan and toss together.
* Super-lazy shortcut: Buy frozen pre-sliced leeks. it won't be exactly the same (they're usually cut in rings, not matchsticks, and green and white are mixed together), but it'll be close, and so much faster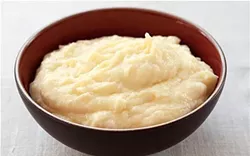 photo via Telegraph.co.uk
Celery Root and Parsnip Mash
(plus a vegan variation)
More fun than mashed potatoes. Don't worry, boiling mellows out all the garlic.
1 cup peeled celery root cut into chunks (about 1/2-inch)

1 cup peeled parsnips cut into chunks (about 1/2-inch)

1 cup red potato with peel on, cut into chunks (about 1 inch)

10 peeled garlic cloves (yes, 10) *

kosher salt

cracked black pepper

1/4 cup half and half

1 tablespoon butter

Place garlic cloves, celery root, parsnips, and potato chunks in a large saucepan with enough water to cover by 1/2 inch. Season generously with salt. Bring to a boil, then reduce heat to medium and cook until very tender (about 20 minutes).
While the potatoes are cooking, melt the butter in a small pan over low heat. When it's liquid, add the half-and-half and stir together until everything is warm; take off the heat, season with a few grinds of pepper, and set aside.
When the veggies/garlic cloves are tender, drain well and return everything to the pot over low heat, shaking until the moisture evaporates (a couple of minutes). Mash the potatoes, parsnips, celery root and garlic in the pot with a potato masher until it's at your texture preference – lumps are OK, smooth is OK, whatever. Add the butter mixture and stir to combine.
Vegan variation: Substitute full-fat, unsweetened cashew milk for the half-and-half and Earth Balance butter substitute for the butter. I'm not a fan of fake butter in general, so skip it if you feel the same way, but it does add a buttery flavor here.
* Super-lazy shortcut: Buy pre-peeled garlic cloves.
Moroccan Carrots
Simple, but far from plain.
2 pounds carrots (about 10 medium), peeled and cut on the diagonal into 1/4-inch slices *

1 crushed garlic clove

2 tablespoons olive oil

2 teaspoon ground cumin

1 teaspoon ground cinnamon

1/2 teaspoon honey

a pinch of cayenne

2 teaspoons fresh lemon juice

fresh chopped cilantro (optional)

In a steamer set over boiling water, cook the carrots, covered, for eight minutes or until tender. Drain.
Meanwhile, place a sauté pan over moderately low heat, add oil, and cook the garlic, stirring, for a minute or until fragrant. Add cumin, cinnamon, honey, cayenne, and the steamed carrots, and cook the mixture, stirring, until the carrots are well-coated with spices. Stir in lemon juice and salt and pepper to taste, transfer the carrots to a bowl, and let them cool to room temperature. Sprinkle with cilantro if using.
* Super-lazy shortcut: Buy pre-peeled, pre-chunked carrots.
Triple O Salad
Strong fresh flavors to cut through the richness of all the other stuff at the table.
1/2 cup olive oil

3 tablespoons fresh lemon juice

orange and lemon zest (zest the lemon before juicing and the oranges before peeling)

1/3 cup sliced pitted kalamata olives *

1 medium red onion, thinly sliced in half-moons

5 large navel oranges

salt and pepper

chopped fresh rosemary (optional)

In a Mason jar, combine oil, lemon juice, and a few pinches each of orange and lemon zest. Shake it up until fully emulsified, then drop in the onion slices. As you slice the oranges, give the jar a shake from time to time.
Peel the oranges, slice across the equator about 1/4-inch thick, then arrange the slices on a platter. Place the onion slices over the oranges, and add a bit of the dressing (some will come with the onions, but drizzle over a bit more. Reserve the leftover for another use). Scatter the olives over, and the rosemary if using.
* Super-lazy shortcut: For the love of God, buy pre-pitted and sliced olives.