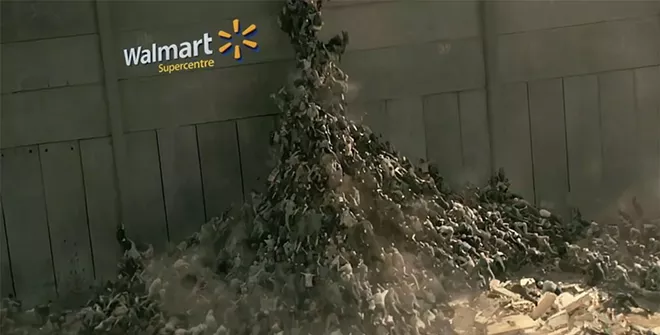 For Thanksgiving, may we offer you some terrible Photoshop?
The origin of the phrase "Black Friday" is a twisty one, but it probably doesn't mean what you think it means.
this
is a total myth, so don't even. (Though J.R. Smith is probably just the most visible person to post this, so cut him some slack ... it's everywhere.)
The first published use of the term "Black Friday" was in 1951, in a newspaper story about the oh-so-mysterious illness that seemed to strike employees on the Friday after Thanksgiving. ("Sorry boss ... it musta been too much stuffing ... I got the itis.")
Once most employers caved in and began offering a four-day weekend for the Thanksgiving holiday, it naturally became a shopping bonanza – so much so in Philadelphia that, thanks to the massive traffic jams and hordes of people descending on City Center, traffic police there began calling it … yep, Black Friday. In the early '60s, a Philadelphia paper picked up the term in their reporting of the annual shopping rush, and eventually it went national.
But retailers didn't like the negative connotations, so in the '80s they concocted a story that Black Friday is so-called because it's the day of the year when they get out of the red and start making profits. Less offensive than the "slave sale" myth, but no less false, apparently.
Whatever the origin, and whether you're reading this pre- or post-Black Friday, the season of holiday shopping is officially on. And whether you need that gift bought and wrapped as early as
Dec. 14
or you have until
Jan. 1
, shopping local is probably on your list as a way to keep those dollars in the community. A widely quoted study says that for every $100 spent at a locally owned business, $45 goes back into the local tax base, as opposed to just $13 for every $100 spent at a chain store, which may be why "buy local" campaigns have doubled since 2005.
There are plenty of local gift ideas below. So drop those dollars at your local bookstore or boutique.
Your essential gift guide for shopping local this season
– with recommendations from Market on South, Shoppes at College Park, Rifle Paper Co., Kick Bright, Gallery on the Edge, Gods & Monsters and more.
10 Orlando markets where you're bound to find something for everyone on your list
– local artisan markets, art sales, and craft shows.
A guide for picking this year's local book gifts
– books with a Florida connection (local writers, local topics).
Don't kale yourself: The new plant-based cuisine has nothing to do with self-denial
– a guide to 2015 cookbooks with a veggie slant
Travelust: Regional and national cookbooks that will make their eyes pop and their mouths water
Head vs. heart: Is your giftee intuitive or analytical in the kitchen?