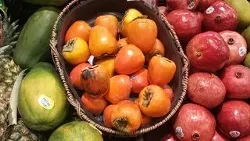 I never really got the hang of persimmons until I found myself in conversation with one of the growers at the Winter Park Farmers Market last year. He had some persimmons, both Fuyu (the more squat variety) and Hachiya (the more oblong variety). We started talking about how to use them, some ripening tips, and a couple of recipe ideas. From that conversation (excerpts below), the Hachiyas seemed more my cup of tea.
"Leave them to ripen on the counter for, like, ever," he said. He assured me that that longer I left them to ripen, the sweeter they would be. "Honestly, you're going to think they're rotting, but they're not. They're reaching their persimmony potential. Once they're super soft, I mean, softer than you think they should be, tear off the stem, put your lips over the opening and suck those bad boys dry. All of it. Until there's just a shrivel of skin left."
Oh my. This is my kind of fruit.
I did just that. Those Hachiya persimmons sat on my counter for a good week to 10 days after buying them at the farmer's market. Once they were soft and I could feel the flesh yielding from the skin when I gently depressed them, I did exactly what that guy told me.
I've heard that Fuyu persimmons are custardy and delicious when they've been frozen or are nicely crispy when added to salads and such, but man, those Hachiyas. They have my number. They're impossibly sweet and soft and there's some fibrousness but it isn't unpleasant.
They're at Publix right this minute; two for $3. Let them ripen on the counter and then suck those bad boys dry. You won't regret it.
In the meantime, here's a primer on persimmons: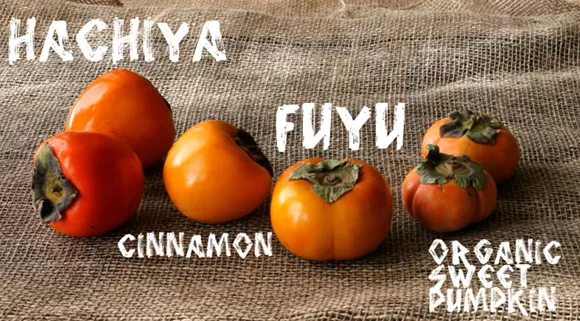 Image courtesy Shockingly Delicious