Feeling festive? Plenty of ways to make merry for music lovers next month, but we scanned the calendar to pick out the best events we thought you should definitely have on your radar. We were stoked to see the massively popular Sweater Fest is back, taking over the Milk District backlot with a slew of our favorite local bands (including the not-so-local-anymore SWIMM - we assume home for the holidays!).
Between offbeat holiday traditions like Marc With a C's Marathon Holiday Show to season's-needings charity drives like The Scene III Alternative HipHop Music & Art Festival, there's a lot more to be thankful for that comes around this time of year than just wreaths on doors and lights on trees. Plus, check out major national acts like Shaggy, Walk the Moon, and Third Eye Blind or get down with some of Florida's most seasoned prime talents like Ben Prestage and DJ YNOT. Ya'll must've been good to deserve all this?
Marc With a C's Annual Marathon Holiday Show!

We don't want to call this the anti-holiday show because it's as close to a family get-together as you can get on the local scene, but you won't hear any Christmas songs at this fun night unless you count the Marc With a C holiday classic "Freezing in Florida."
8 p.m. Saturday, Dec. 12, at the Geek Easy, free
(RSVP!)

Mix 105.1's All I Want for Christmas Show featuring Third Eye Blind
Mix 105.1 gives an alternative rock gift that's definitely not a lump of coal for longtime Third Eye Blind fans, plus catch the Band Perry and Jamie Lawson.
7 p.m. Sunday, Dec. 13, at House of Blues, $29.50
Michael McDonald: The Christmas: An Evening of Holiday and Hits
Don't believe in Santa? Pfft, Songwriters Hall of Fame nominee for 2016 Michael McDonald is used to judging what a fool believes. Hear his hits as well as holiday favorites.
8 p.m. Tuesday, Dec. 15, at Hard Rock Live, $33-$63
Orlando Cantastic Food Drive featuring Dogs on Acid and Year of Glad

Catch four seriously rad indie punk bands, including Dogs on Acid, Year of Glad, Living Decent and Henrietta, with all donated canned goods to benefit Second Harvest Food Bank of Central Florida.
8 p.m. Tuesday, Dec. 15, at Will's Pub, $10 or $7+2 cans of food
(RSVP!)
XL'ent Xmas: 25th Anniv. Edition Ft Shaggy, Walk The Moon & Tori Kelly

We all know what would happen if you caught Shaggy kissing Santa Claus ("It wasn't me"), but instead of lurking his chimney, spy the reggae singer with Walk the Moon and Tori Kelly at Ho-Ho-House of Blues (sorry I ruined Christmas with bad wordplay).
7:30 p.m. Thursday, Dec. 17, at House of Blues, $55.00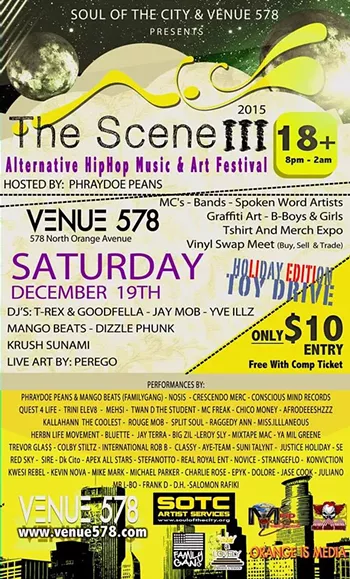 Noche Buena With Uncle Tony (DJ YNOT)

Noche Buena is a glorious tradition that ties music up with the holidays like a neatly packaged gift with a bright gold bow, and Uncle Tony's Donut Shoppe is looking to keep it tightly wrapped with venerable Miami funk DJ YNOT, plus opening sets by Dusty Fingers and Spreadsheets, coquito (which is kinda like spiked eggnog, but not sucky) and empanadas.
9 p.m. Thursday, Dec. 17, at Uncle Tony's Donut Shoppe, free
(RSVP!)
Sweater Fest

Fingers crossed it won't be too humid for comfort in your favorite ugly sweater, but this awesome local music fest is a giant party with SWIMM, Fat Night, Someday River, Thrift House, Harum Scarum, Timothy Eerie, and the Die Tryins. They promise "an uncomfortable amount of holiday cheer" plus a silent disco and holiday market. Find music at Spacebar, Sandwich Bar and in the backlot.
7 p.m. Saturday, Dec. 19, in the Milk District, $10
(RSVP!)
The Scene III Alternative HipHop Music & Art Festival (Holiday Edition)

This massive hip-hop festival features too many bands to name em all (check the flyer for all the deets or click on RSVP below to see the Facebook event), but highlights include Phraydoe Peans & Mango Beats, Split Soul and Nosis. Plus there will be spoken word and b-boys and girls, a vinyl swap meet, T-shirt and merch expo, and rad DJs keeping spirits bumpin' all night. It's also a toy drive, so bring something for the kiddies.
8 p.m. Saturday, Dec. 19, at Venue 578, $10
(RSVP!)

Butch Trucks & the Freight Train Band's Holiday Show

The Allman Brothers Band drummer brings a special holiday-themed jam band show to the Plaza Live.
7 p.m. Wednesday, Dec. 30, at the Plaza Live, $29.50-$124.50
New Year's Eve With Ben Prestage

Nobody parties like the whiskey-slugging one-man blues band that is Ben Prestage, whose fans flock like dedicated college football junkies to toss 'em back with the wild Florida man. There's a free champagne toast at midnight if you're more traditional, but we think it'd be more appropriate to smuggle in some back-country moonshine to give the new year an actual kick that rivals what it takes to power Prestage's home-rigged drum kit.
9 p.m. Thursday, Dec. 31, at Will's Pub, $10
(RSVP!)