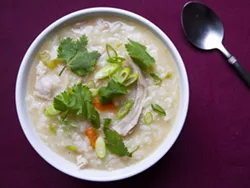 Your Thanksgiving leftovers, if you've kept them nice and cool since Thursday evening, should be good for a few more days. So, if you're tired of turkey tetrazzini (does anyone really know what that is?) or turkey noodle soup or turkey omelets or turkey salad wraps, here's something new: congee.
Congee is a creamy, starchy rice porridge traditionally served as breakfast (topped with mixed meats or just plain) or as comfort food (akin to having cereal for dinner). In China, it's usually offal cuts, chicken or pork that adorns the congee. Turkey is an equally delicious substitute.
Here's a
recipe from Saveur
, so if you find yourself with a spare three hours this week and feel like performing a culinary feat, knock yourself out. If you just want to get some plain congee as takeout from any of these local restaurants, we won't judge. Not everybody got time for that.
Pho 88
– the Vietnamese iteration of congee is called "chao." Just let the person on the phone or at the counter know you want yours plain. The "Chao Ga" at Pho 88 is just under eight bucks, so getting it plain will probably cost a bit less than that.
Tasty Wok BBQ & Noodle House – The Cantonese soup shop has about 10 kinds of congee on the menu, but the plain congee will only set you back $3, and there's a LOT of it in a portion. Tasty Wok recently signed on to
delivery service via OrderUp
too, so win-win.
Ming's Bistro
– The Salted Pork and Preserved Egg congee might sound tempting, but try to resist. Plain congee is $4 here. Come for the weekend-morning dim sum and order the congee to go for dinner.