THIS LITTLE UNDERGROUND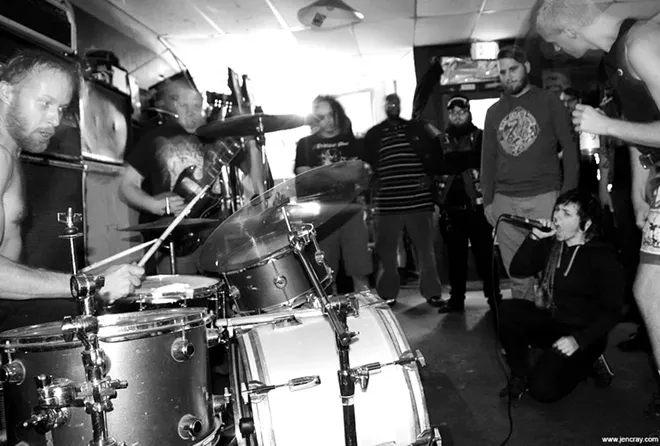 Jen Cray
Kaya at Uncle Lou's
Grindcore
is one of those kinds of music that always makes me feel a little limited, both in perception and vocabulary. It's a niche and narrow genre whose dense hairs are difficult to split to practically all but
heavy-music academics.
What's obvious about Tampa's
Kaya,
however, is that they're a furious band that rushes headlong, hits hard and does not fuck around. They came to town (Dec. 9, Uncle Lou's), set up their equipment and then raged full-blast for maybe
10 minutes,
tops. Seriously punk.
Jen Cray
Kaya at Uncle Lou's
Of course, just when I say how narrow grindcore is, Canadian headliner
Fuck the Facts
steps up with an
expansive and box-shattering vision
of it. There's a reason these guys topped the marquee. I've been to lots of extreme shows, grind and otherwise. But in sound and bearing, it was like seeing in color suddenly. It's not just because they brought their own lights, which they did, and the added presentation value was nice. No, it's because they were
total wrath,
a kind that was also somehow dimensional and atmospheric. And they ripped it with presence electrifying enough to prove one of the
most distinctive grind outfits
I've seen in a very long time, possibly ever.
Jen Cray
Fuck the Facts at Uncle Lou's
Jen Cray
Fuck the Facts at Uncle Lou's
Jen Cray
Fuck the Facts at Uncle Lou's
////////////////////////////////////////////////////////////////////////////////////////////
This Little Underground
is Orlando Weekly's music column providing perspective, live reviews and news on the city's music scene.

Follow Bao on Twitter (@baolehuu)
Email Bao: baolehuu@orlandoweekly.com