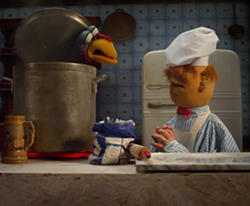 Image courtesy muppet.wikia.com
Next to the eggnog, the turkey, the ham, the mac & cheese, the green bean casserole and all the other trimmings that go along with your typical holiday buffet table, IKEA is making it pretty dang tempting to include some Swedish classics to that lineup.
Or, if you're really looking to shake things up (and probably piss off a few family members who rely on Christmas as the only stability and surety in their lives), swap out your typical holiday offerings with some of the low-cost furniture store's edible items.
Here are some suggestions — prices are listed below and
they're sure to be found at IKEA Orlando
:
LAX GRAVAD
Swap for: Spinach-artichoke dip
How-To: Combine the marinated salmon in a food processor with 1 tablespoon lemon zest, 1 cup of mayo (or Miracle Whip if you're feeling frisky), 1/2 cup of sour cream and a block of cream cheese. Whiz it up and then fold in chopped fresh dill. Put it in a bread bowl and serve with crudité and crackers (preferably the Knackebrod below).
GLOGG APPLE
Swap for: Mulled wine
How-To: Add apple brandy to taste and let it sit overnight in the refrigerator with some cranberries, oranges and a cinnamon stick or two. Basically holiday sangria.
OST PRAST:
Swap for: Cheddar, Gouda, Swiss cubes
How-To: Switch up your cheese plate and include this Gouda-like mild semi-hard cheese. Pairs well with tart apples like Granny Smith.
GRONSAKBULLAR (so fun to say!)
Swap for: Those slow-cooker meatballs in grape jelly and ketchup sauce
How-To: Heat them up in the oven and serve with the lax gravad dip (see above) or, for a Southern twist (Swedish-Southern is the next big fusion cuisine, dontcha know?), red pepper jelly or chow-chow. Your veggie friends will be *thrilled*.
GODIS JULKOLA
Swap for: All other holiday candy
How-To: "Chocolate-flavored sweets" is pretty much the least descriptive moniker in the history of monikers, but a couple of pretty dishes full of these chewy, chocolate-covered morsels will please even your most xenophobic cousins.