Photo via Flickr Creative Commons
Chances are, you've probably only purchased Brussels sprouts already harvested from the stalk they grow on, ready to roast or boil or sauté with bacon and almonds.
If you haven't seen them coming out of the ground, you might not know how they actually grow, but it looks like two grocery stores in town are setting the record straight by selling the sprouts still attached to their long stalk.
Brussels sprouts actually grow vertically and in alternating rows on a thick stalk that looks not unlike a broccoli stalk. Each little mini-head is harvested at its base and then the stalk is discarded or replanted for the next year.
At Trader Joe's ($3.49/lb) and Fresh Market, though, instead of grabbing a heap from a pile or filling your cart with individually wrapped styrofoam portions, you can pick up a whole stalk of Brassica buds and make quick work with a paring knife yourself. Fun!
Here's what they look like: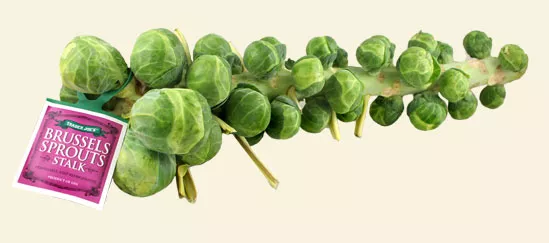 Image courtesy Trader Joe's