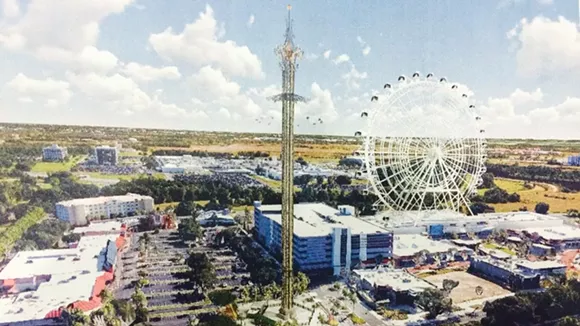 Photo via Unicorp Development
At the beginning of December, the Orange County Board of Commissioners unanimously approved the massive
Skyplex development
, which includes a nearly 600 ft. tall roller coaster-clad tower. At the very next BoC meeting the commissioners approved another impressively tall attraction for I-Drive. Clocking in at 425 ft. tall, the Starflyer at the Vue will tower over the nearby Orlando Eye (it's 400 ft. tall) and will be the world's tallest swing ride.
The new swing ride will technically be in the plaza next to the Orlando Eye. The former Goodings plaza, now home to King's Bowl, is getting a new name and update. When finished, the plaza will be known as the Vue at 360 and will include a number of new tenants. The Starflyer will sit in the parking lot on what is currently a taxi staging area.
The new swing ride will be similar to the nearby
Starflyer ride at Magical Midway
; that one is 230 ft. tall and goes nearly 50 mph when at full speed.
Unlike the Skyplex, which saw massive support from nearby businesses the new Starflyer does have its opponents; specifically the nearby Sleuth's Dinner Theater, which owns 5.3 acres in the plaza, and Charley's Steak House, which sits at the end of the plaza next to the Starflyer's property. Both businesses expressed support of the project, but disagreed with its placement along I-Drive, stating that it would create a "circus" atmosphere along I-Drive while blocking visibility of the plaza. The two businesses said it would work better at the rear of the property.
The Starflyer is expected to break ground in the next 6 months and be open by mid-2017.