THIS LITTLE UNDERGROUND
Jen Cray
The Punknecks at Will's Pub
As the name promises, the
Punknecks
(Jan. 11, Will's Pub) – aka
Jason and the Punknecks
– are a country-punk outfit. They're currently coming out of Nashville, but their caricatured aesthetic is more like outlaw country spirit filtered through
L.A. or Vegas.
With lots of costume, tattoos and attitude, their deal is
part camp
and
part freak show,
but all up in your face. Even though the lead couple of Jason and Polly Punkneck alone packs theatricality in spades, the flair extends throughout the entire four-piece band. Luckily, however, the Punknecks are a little more than just image.
Jen Cray
The Punknecks at Will's Pub
Jason's frog-voiced singing gives them
punk bite,
sure. But there are some threads of
surprisingly authentic soul
in their over-the-top tapestry. And, live, it came almost single-handedly from the fiddle, which lent their songs some
deep mountain edge.
Glimpses of that straightforward virtue, in fact, could be seen when they led with heart instead of swagger. No doubt, though, that duality – mirrored in the contrasting dynamic between Jason's gruff bluster and Polly's
Hee Haw
-ready Dolly charm – is part of the allure to their fans.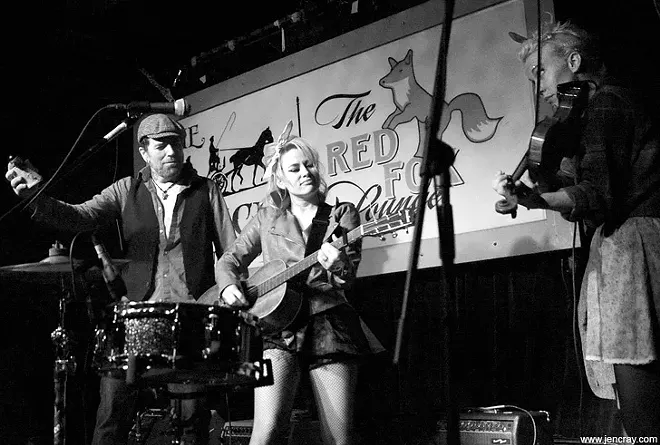 Jen Cray
The Punknecks at Will's Pub
////////////////////////////////////////////////////////////////////////////////////////////
This Little Underground
is Orlando Weekly's music column providing perspective, live reviews and news on the city's music scene.

Follow Bao on Twitter (@baolehuu)
Email Bao: [email protected]