THIS LITTLE UNDERGROUND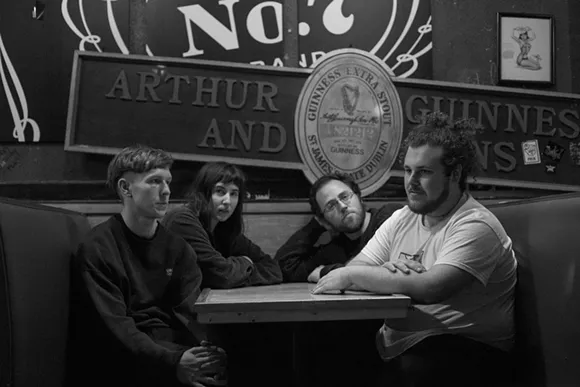 Liv Jones
Mothers at Will's Pub
For a young act with very little tangible trail,
Mothers
is emerging on some considerable national-level groundswell. The Athens band doesn't even have an album out yet (that happens on Feb. 26 on
Grand Jury)
but they're already coming with some
heavy advance buzz
and even some industry forces gathering behind them. Now, after seeing them at their Orlando debut (Jan. 12, Will's Pub), it's pretty clear that all that promise is
real.
Even if you've heard any of the good songs going around online, strap in. What I saw on stage was significantly bigger and deeper.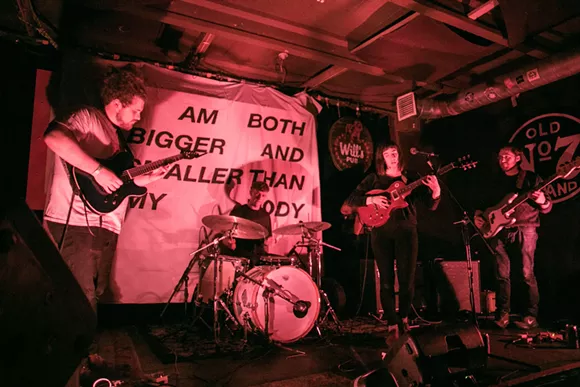 Liv Jones
Mothers at Will's Pub
Liv Jones
Mothers at Will's Pub
Their indie rock is a surprising and compelling union of Kristine Leschper's Angel Olsen-esque vocals, oblique melodic turns and near-shoegaze swells of dissonance. Curious, lovely and loud, it's a balance of
beckoning strangeness
and a
brawny sense of sonic drama.
And their live show is the best impression they've left yet. As mentioned earlier, their hotly anticipated debut album drops on
Feb. 26.
Now's the time to get on 'em.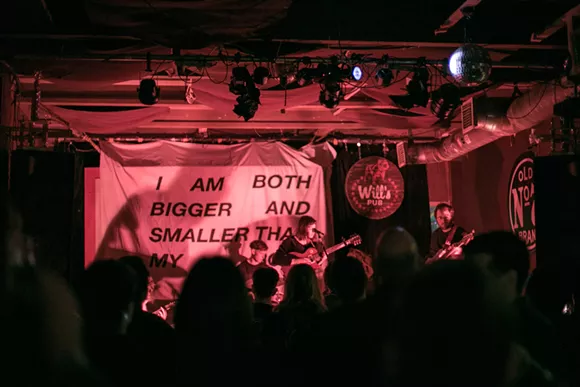 Liv Jones
Mothers at Will's Pub
While we're on new discovery, I just recently named the city of
Lakeland
the "best satellite scene" in my 2015 Undie Awards on the wings of standout groups like
Poster, Omri Loved Celadon
and
Pilgrimage.
Well, add new band
Swept
to that illustrious list because they are further proof that there is something magical in the water over there right now. Between their musical lines and lodestars, Swept isn't easy to pin. Live, they swayed from
off-kilter indie rock
to
noisy psych-gaze
from song to song. The only unifying thread seems to be a sensibility that's textured, woozy and interestingly left-field. But it's all intriguing and amounts to a band very much worth watching.
Liv Jones
Swept at Will's Pub
Liv Jones
Swept at Will's Pub
Also opening was
Tre Hester,
a well-credentialed local musician who's played with an enviable list of homegrown indie names like the
Great Deceivers,
the
Pauses
and now with rising local
Laney Jones,
as well as national indie star
Matt Pond.
From that list, it's clear he's been a pretty wanted hired gun for quite a few years, which explains why his own material isn't especially known. But this little performance made a positive case for him to consider giving it a little more commitment.
Liv Jones
Tre Hester at Will's Pub
His music is
pleasantly downcast indie rock.
The inclusion of a
David Bazan
cover in his set – and the further fact that it was the most upbeat song he played – should give you a good idea of where Hester's coming from. But buoying the tender, reflective mood is his clear, articulated and melodic voice. And the result is a lot less soporific than it looks on paper.
He's currently working on his first solo EP with Saskatchewan's Ranson Vorpahl and recording help by Fat Night's Daniel Hanson. As always, however, the timing of its completion is subject to his other commitments. And since
Laney Jones and the Spirits
are about to hit the national tour circuit pretty hard to push her upcoming new self-titled LP (release show at Will's Pub on Mar. 11), he's going to be awfully busy for a while. Still, it's worth keeping an eye out for.
////////////////////////////////////////////////////////////////////////////////////////////
This Little Underground
is Orlando Weekly's music column providing perspective, live reviews and news on the city's music scene.

Follow Bao on Twitter (@baolehuu)
Email Bao: baolehuu@orlandoweekly.com