photo via Scanwiches
A pastrami sandwich from Katz's Deli on New York's Lower East Side — basically, the Platonic ideal of pastrami sandwiches.
Pastrami sandwiches are usually kinda heavy, being of the deli-style "mountain of meat (and nothing else) between two slices of bread" school. But you have to admire the simplicity: pastrami, yellow mustard, rye bread, thats it. (Half-sour pickle on the side, please.) Today actually happens to be
National Hot Pastrami Day
(whatever), but also, we are currently enjoying the kind of weather that makes eating a giant pile of sliced smoked meat understandable, if not recommended. Here a few places to get/make your own:
In the absence of the now-closed Brown's Deli in Maitland,
Pickles NY Delicatessen
in Longwood is our new fave for the authentic deli experience. Their pastrami is reportedly seasoned in New York, shipped here for cooking and slicing (there's some dispute about this on Yelp, but again: whatever). Anyway, their pickles and egg creams are right, so rest assured you're getting the real deal here.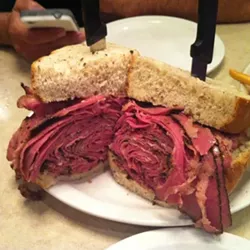 photo via Foursquare
TooJay's Deli
Beefy King
does NOT follow the traditional deli style in assembling their pastrami and cheese. First off, CHEESE. Also, it's served on a roll and you can add tomato, cole slaw, lettuce and/or onion (although, don't let me catch you eating lettuce on a pastrami sandwich). That being said, however, Beefy King is a soul survivor, true Orlando, and their pastrami is solid. I'll let the Kaiser roll go, but American cheese? SMH.
TooJay's
, while somewhat more sterile and chainy than an actual deli, does a very good job of slipping in deli faves amongst the turkey-avocado wraps and California fruit salads. Their menu says the pastrami is "piled sky high" and that is a claim you can trust. Also, it's nicely lean. (Some people like their pastrami fatty, some lean; it's a personal thing.)
And if you'd prefer to make your own,
Trader Joe's
(in Winter Park and Dr. Phillips) sells surprisingly legit packaged pastrami – it's uncured, so no nasty nitrites or nitrates. (They also sell a tasty pastrami-style smoked salmon, but that's a sandwich for another day.)